Ko & Co. Studios Project
"For the creative and motivated," Ko & Co. Studios offers a unique setup for beauty industry professionals seeking a place to call their own. Founded by one of the most acclaimed cosmetic artists in the Midwest, Kirby Keomysay, Ko & Co. Studios has a solid foundation and bright future ahead with its innovative business model. The studio offers 21 leased spaces for beauty professionals to perfect their craft, work with clients, and build their portfolios, all while being independent and supported.
As if the business model wasn't impressive enough, clients and patrons alike are stunned as they walk through the front doors to the main lobby. A stone fireplace extends to the ceiling, complimented by fabulous decor. The lobby desk, topped with Private Studio Collection quartz in Desert Silver, welcomes guests and is a grounding point for the entire salon. One could say it is picture-perfect, yes?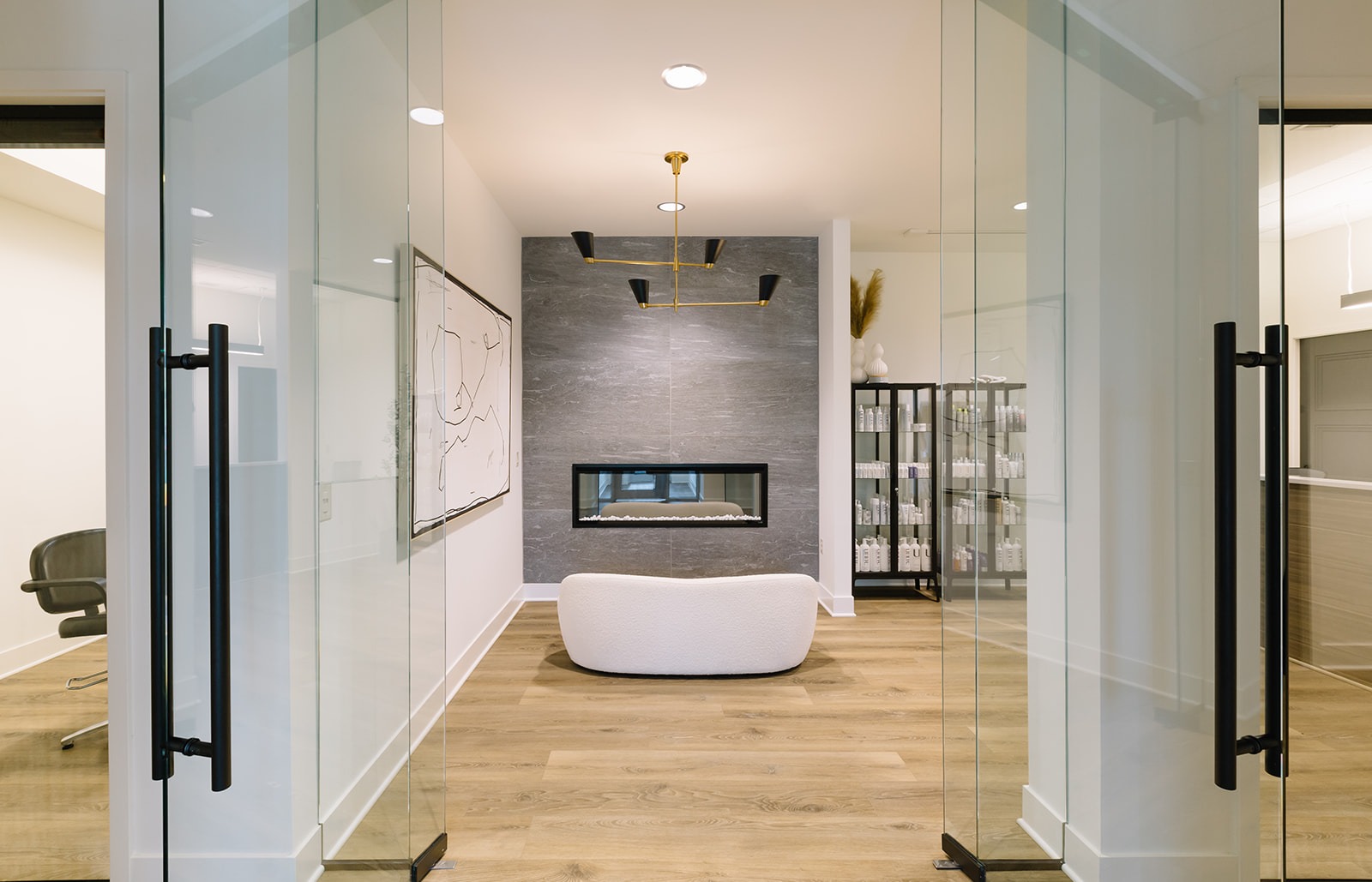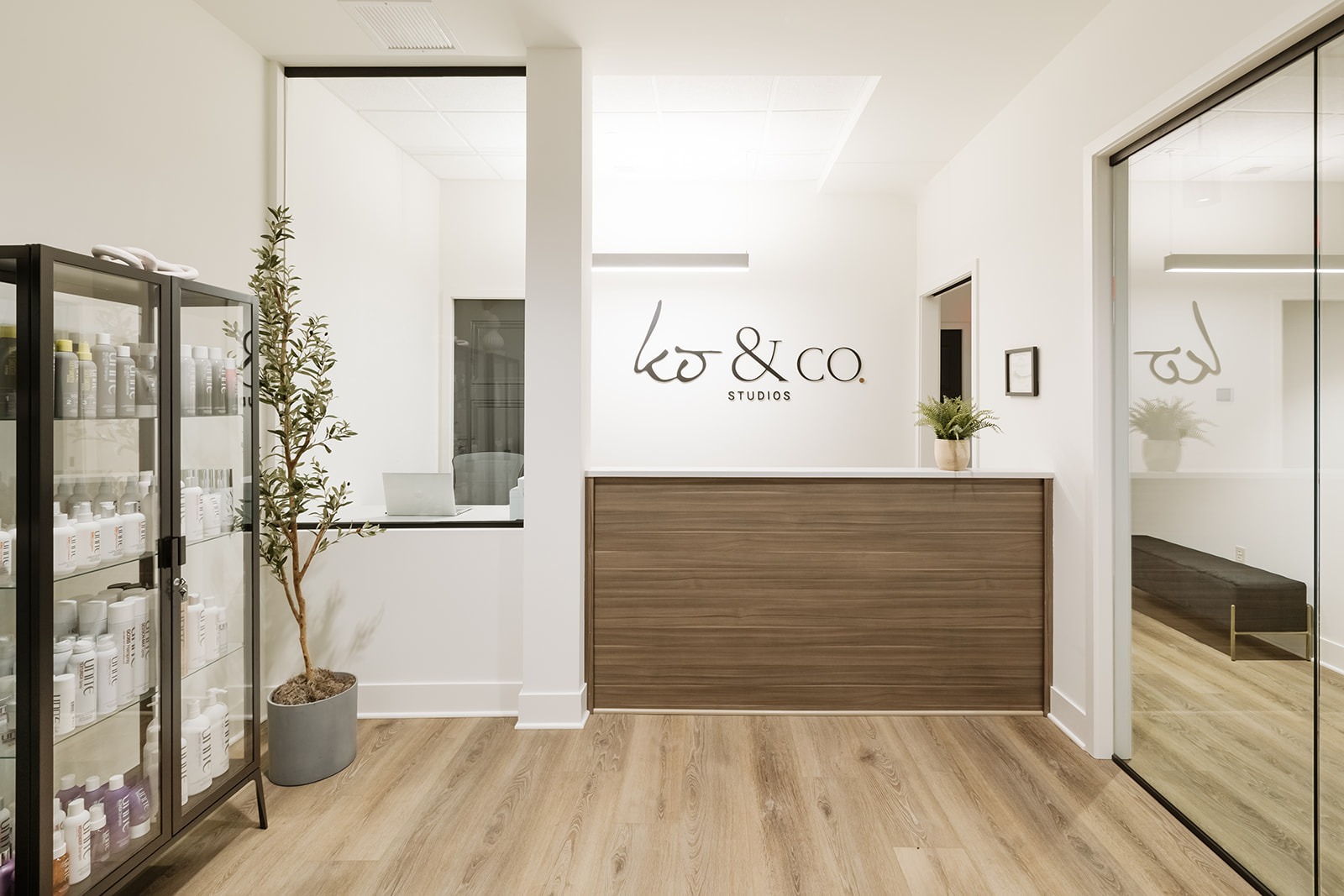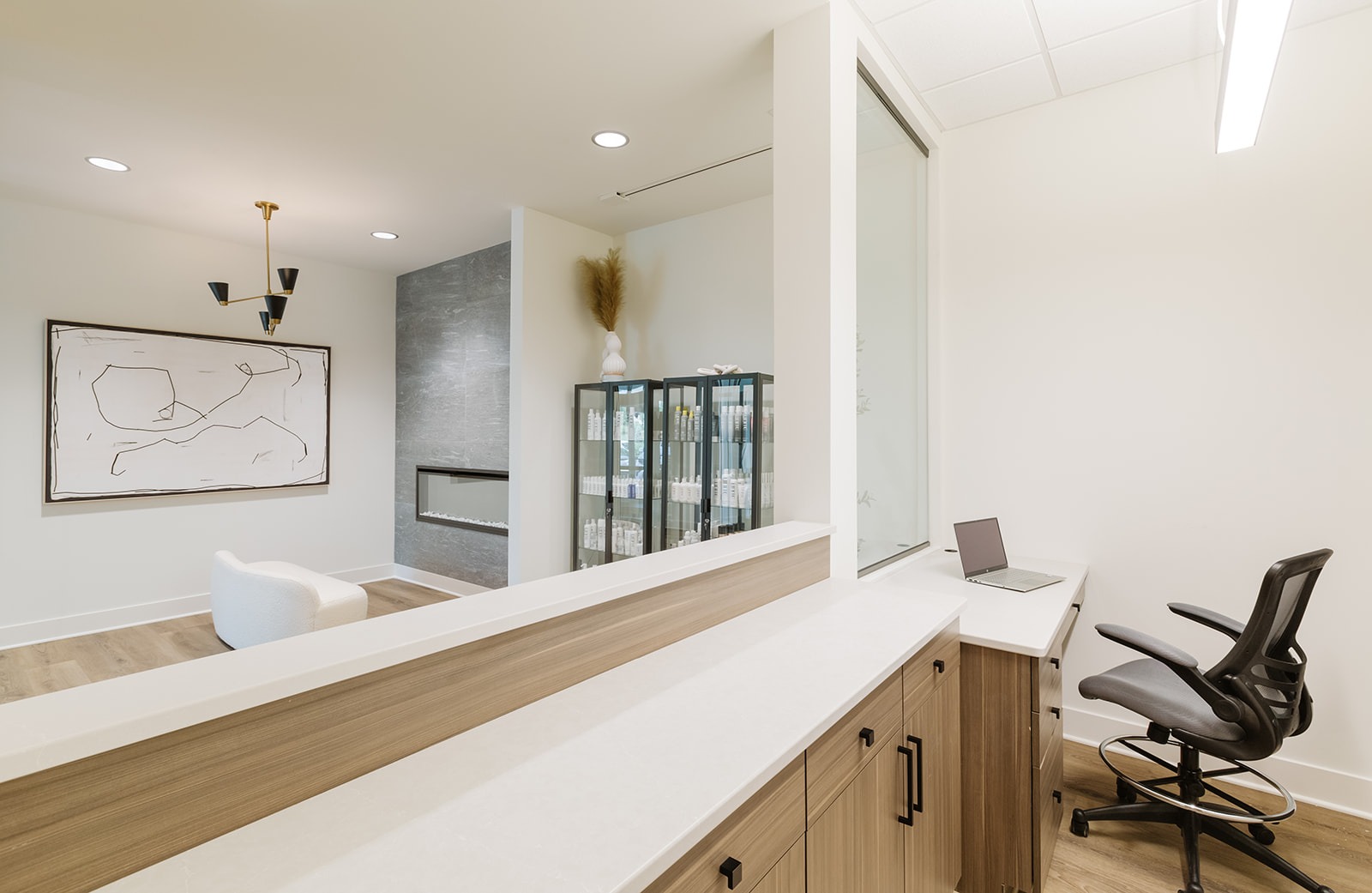 As one moves through the lobby to the hallway, guests are greeted with chatter, laughter, and an orchestra of styling tool noises as each salon buzzes with life. Being a salon, however, calls for durable countertops. Resistant to staining, scratch-resistant, and non-porous, quartz countertops are the optimal choice for commercial spaces of any kind. For Ko & Co. Studios, quartz countertops perfectly balance beauty and durability, creating a space where hair dye, nail polish, and any other spills can be easily wiped away. Each salon suite houses the essential studio furnishings and cabinets, all overlaid with Private Studio Collection quartz countertops in Charcoal Soapstone. Each work space is stunning to say the least!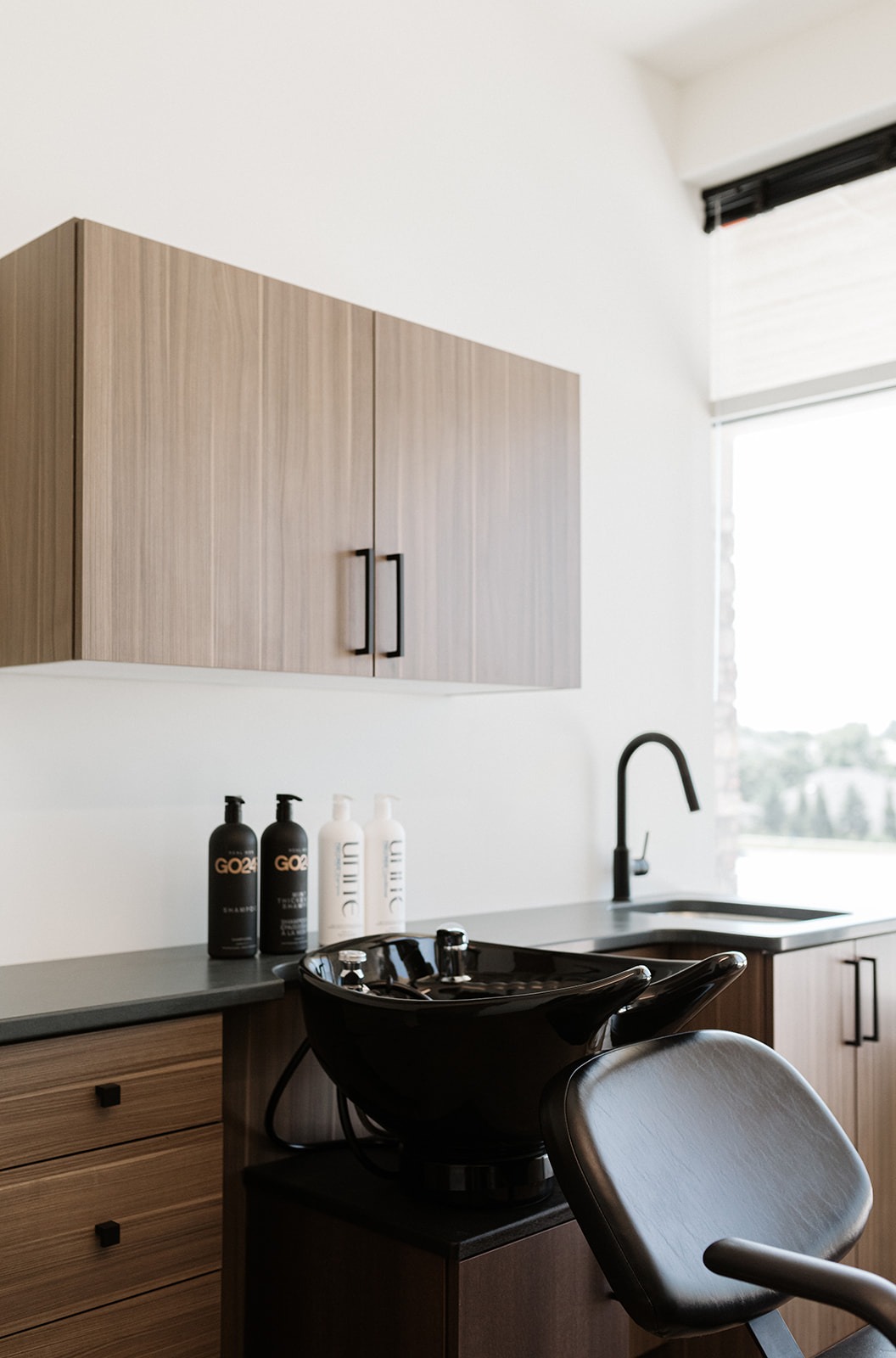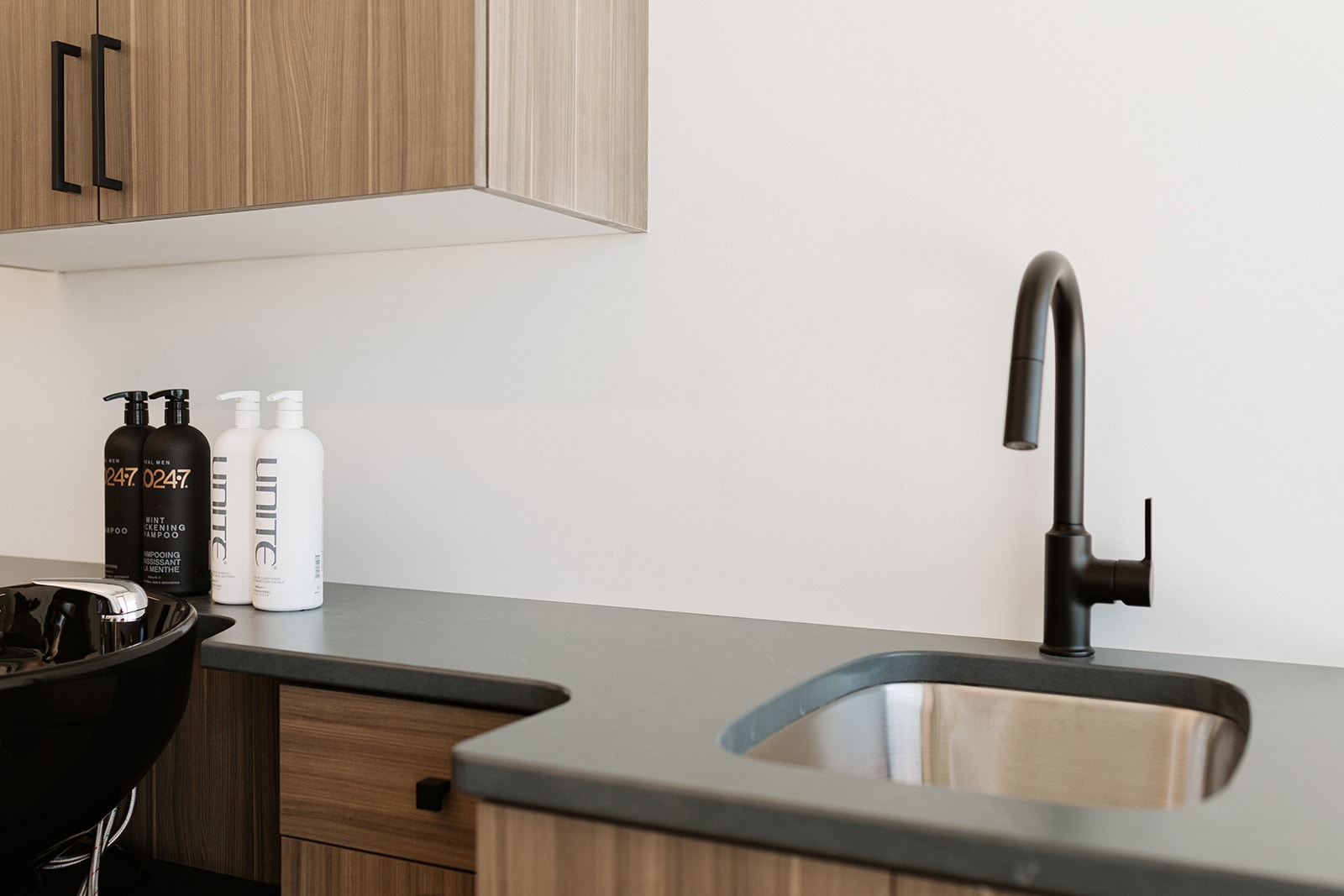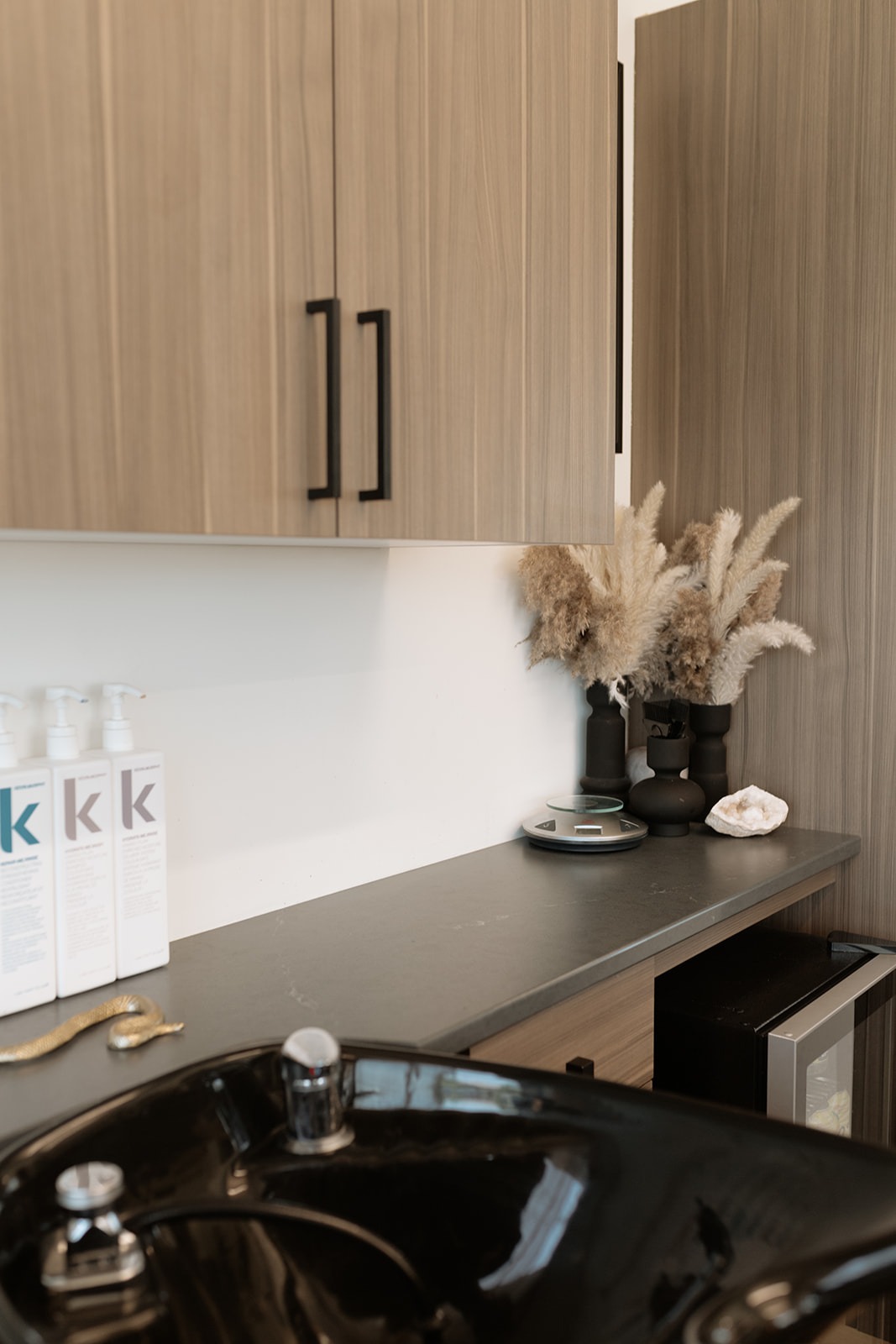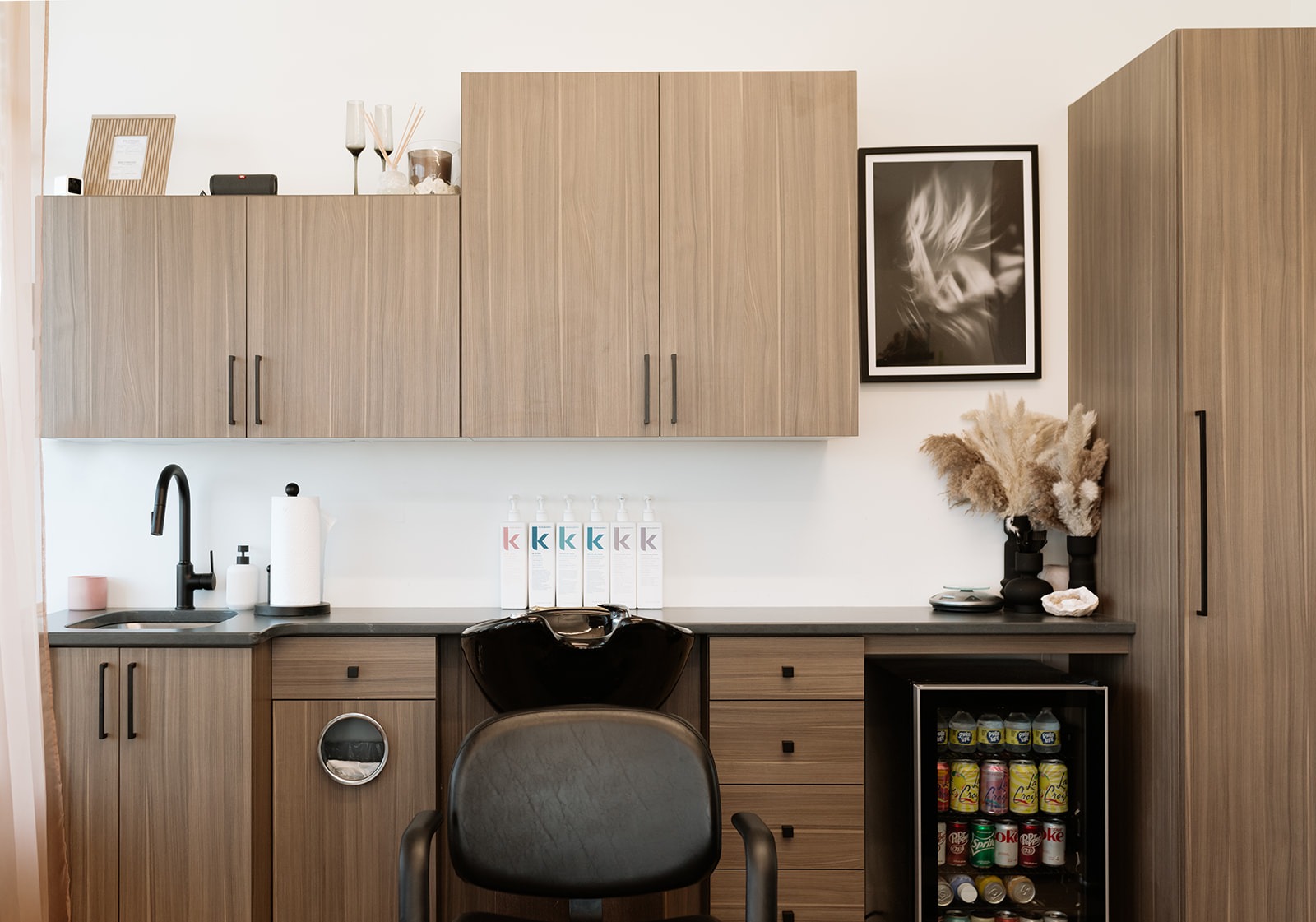 Turning a corner towards the back of the salon leads guests to the restrooms, which do not fall short of jaw-dropping. The men's and women's restrooms mirror each other in their layout and boast the same materials as the lobby. Private Studio Collection quartz countertops in Desert Silver sit atop the vanities, which are adorned with the same wood as the lobby desk front. A detailed backsplash sprawls up to the ceiling, adding dimension. Wicker baskets rest below the sink for added storage and texture. These restrooms offer a bright and serene space for all of Ko & Co.'s guests!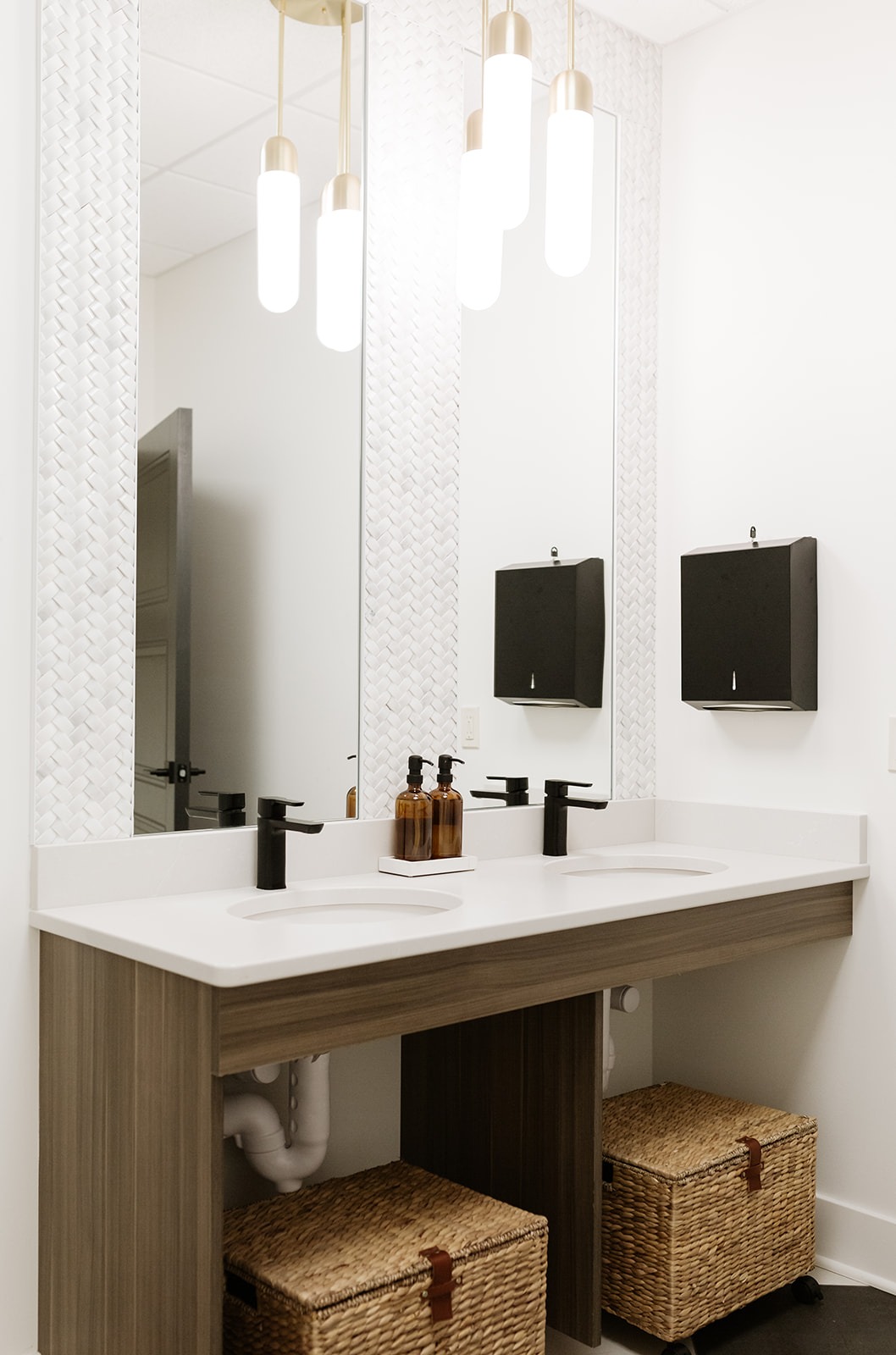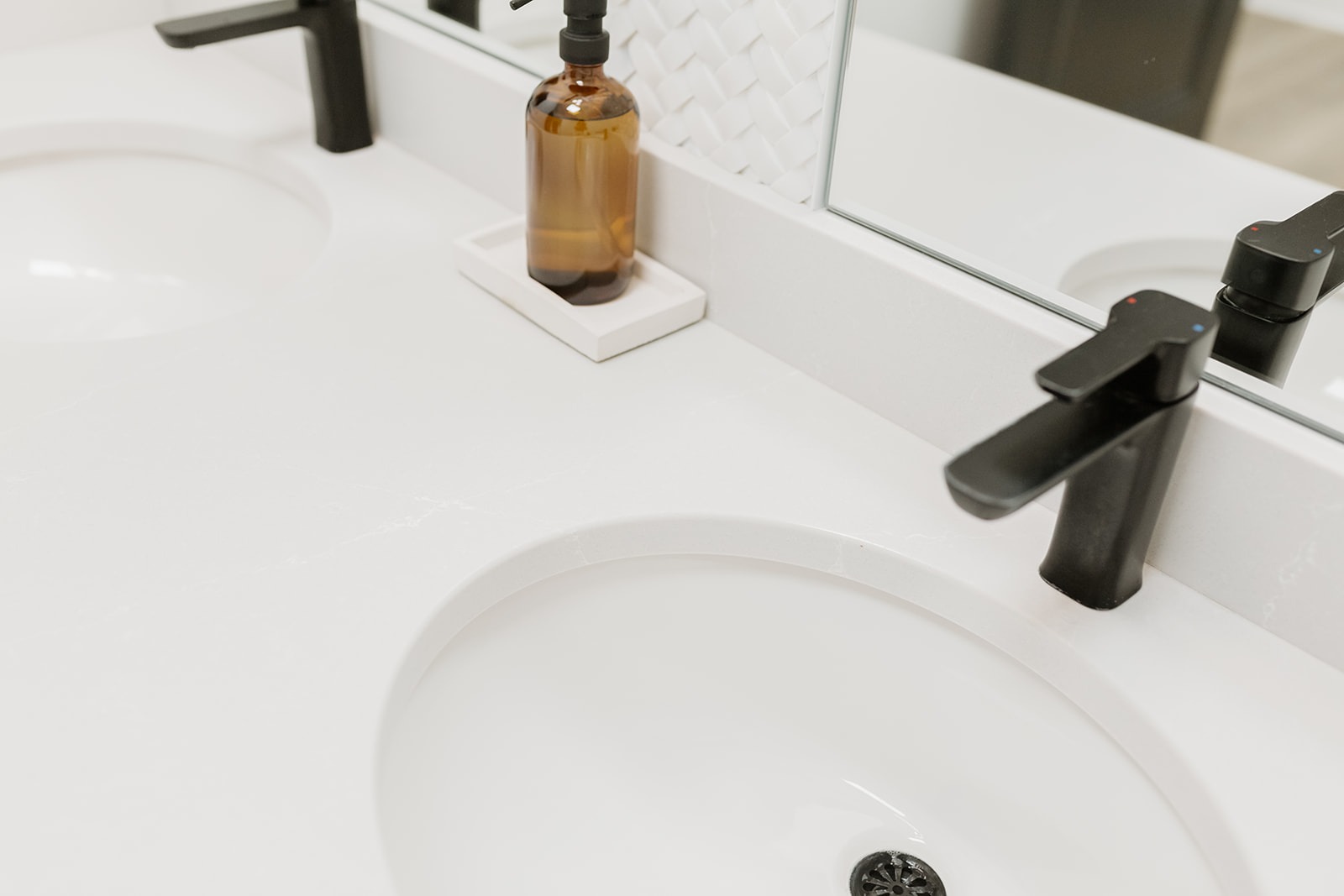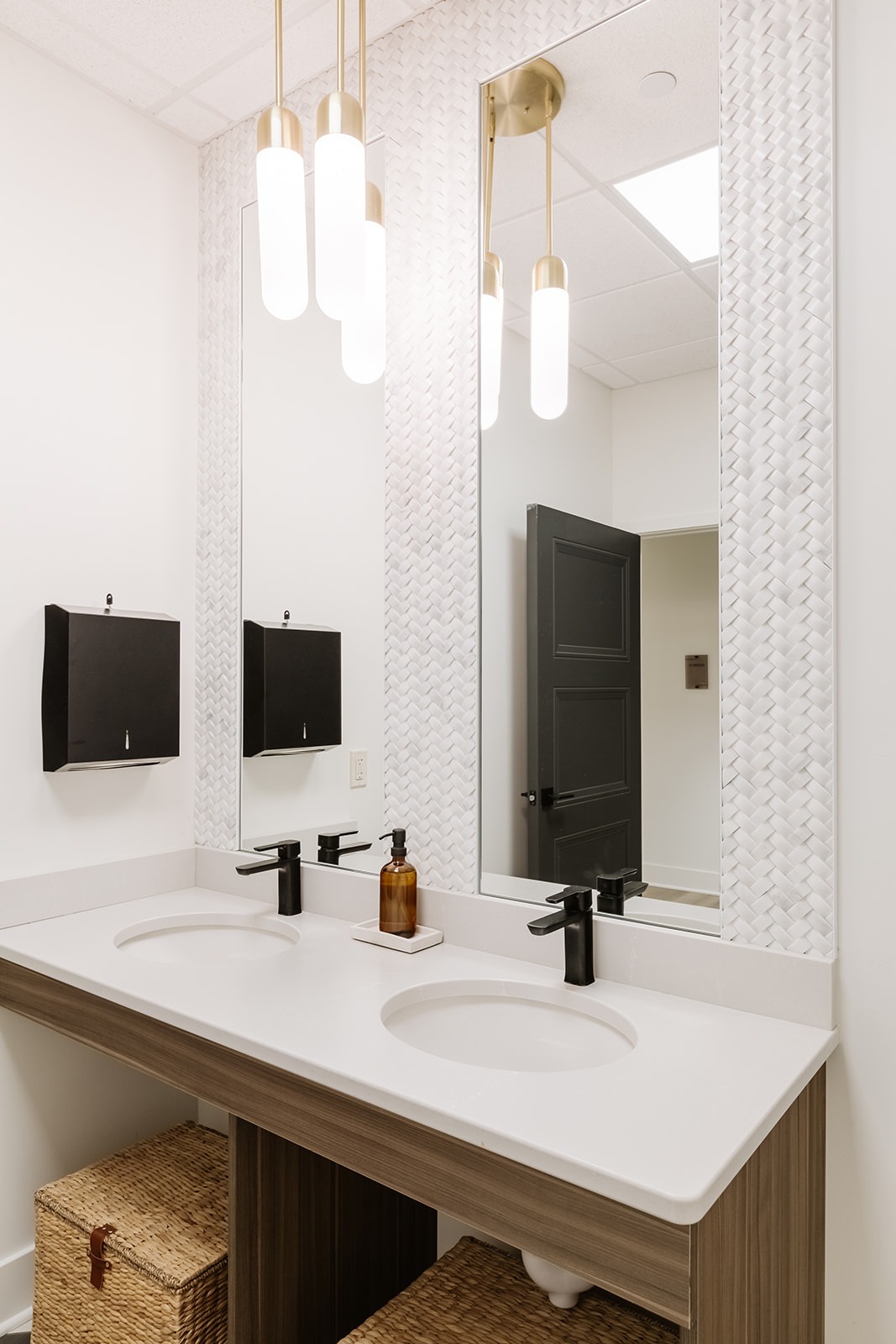 Ko & Co. Studios is a bright, fun, and creative space for beauty industry professionals to pursue their entrepreneurial spirit and houses multiple beautiful spaces for guests and members alike. CKF is delighted to have provided countertops for all the salon suites, the restrooms, and the lobby desk. Overall, we cannot stop obsessing over these stunning spaces. Want to see them for yourself? Visit Ko & Co. Studios on the corner of 192nd St. and Pacific St. in Omaha, NE!
Looking for countertops for your commercial space? Visit any of our four locations to get started creating your dream design!
Countertop Summary:
Lobby Desk: Private Studio Collection quartz in Desert Silver (Suede Finish)
Salon Suites: Private Studio Collection quartz in Charcoal Soapstone (Suede Finish)
Restrooms: Private Studio Collection quartz in Desert Silver (Suede Finish)
Photos by Emma Morem
Sources: Ko & Co. Official Website