2022 Des Moines Home Show Expo Recap
Showcasing a plethora of unique homes constructed by local builders, the annual Home Show Expo in Des Moines, IA, wrapped up this past month with great success! The event took place over several weekends and welcomed hundreds of visitors to explore these newly built homes, all featuring varying design styles and atmospheres. CKF was honored to have cabinetry featured in four homes built by Sage Homes, Kyanite Design & Build, and Epcon Communities, all of which created stunning spaces for viewers to immerse themselves in. With that, let's explore the homes!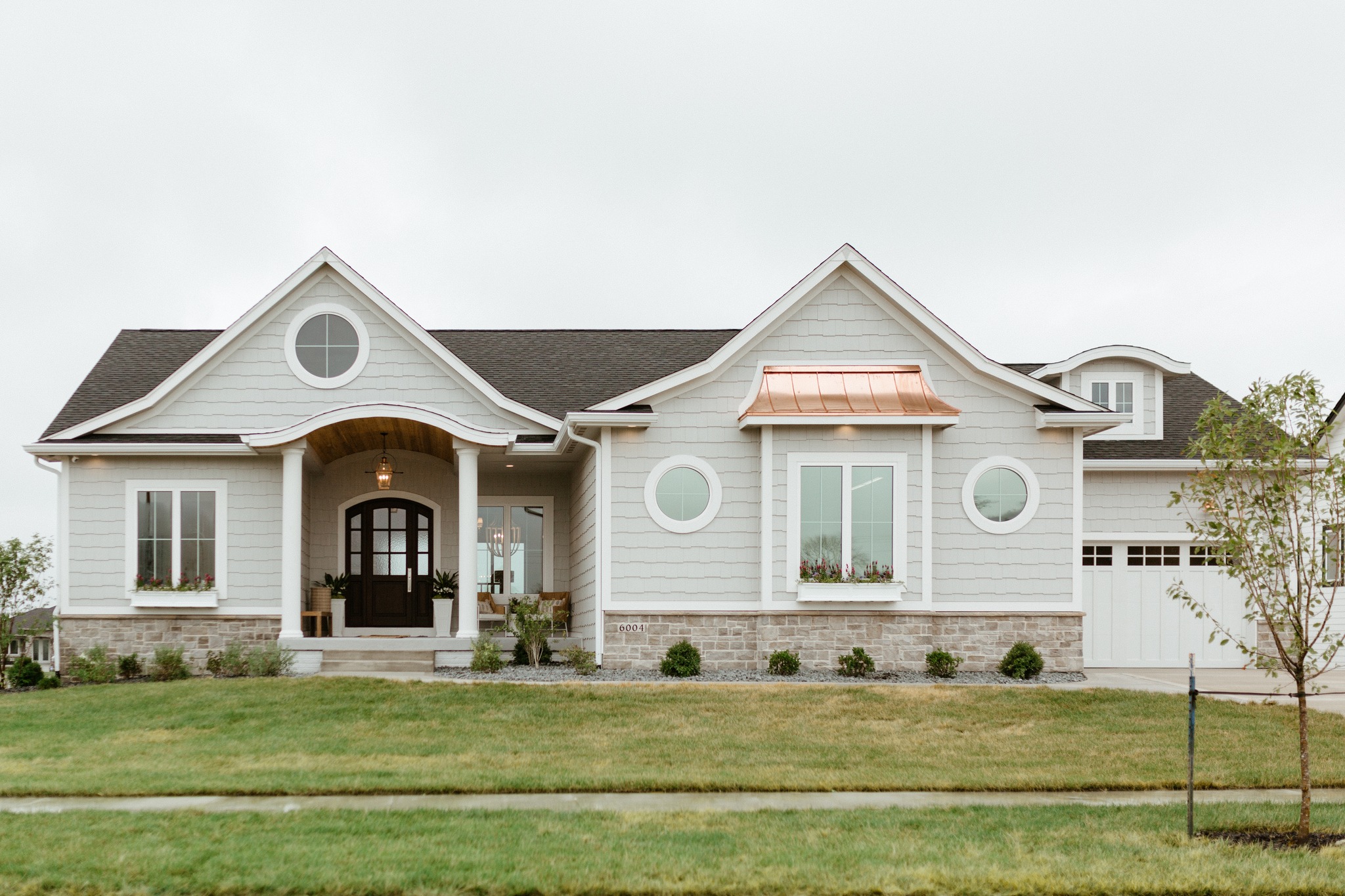 Sage Homes constructed a fabulous traditional style home with striking modern features, containing our CKF 360 Cabinetry line. This home was popular among viewers and earned the Pella's People's Choice Award! Sydney Crawford and John Harris from our Des Moines location worked with Sage Homes to design multiple rooms in the house, including the kitchen, basement bar, and spa-like primary bathroom. Let's dive into the details of this award-winning home!
First up is the main room in the house- the kitchen! This white and sand colored design gives off a warm farmhouse feel that's perfect for hosting family gatherings or making a meal for two. Crisp white cabinets in our 360 Classic line stretch up to the ceiling and are topped with glass-paned doors for a heightened look. Placed in the center of the kitchen is an expansive island constructed with CKF 360 Signature cabinetry in White Oak with a Sand finish, which features a beautiful farmhouse sink and counter stool seating. It's safe to say we've been thinking about this kitchen nonstop since premier day!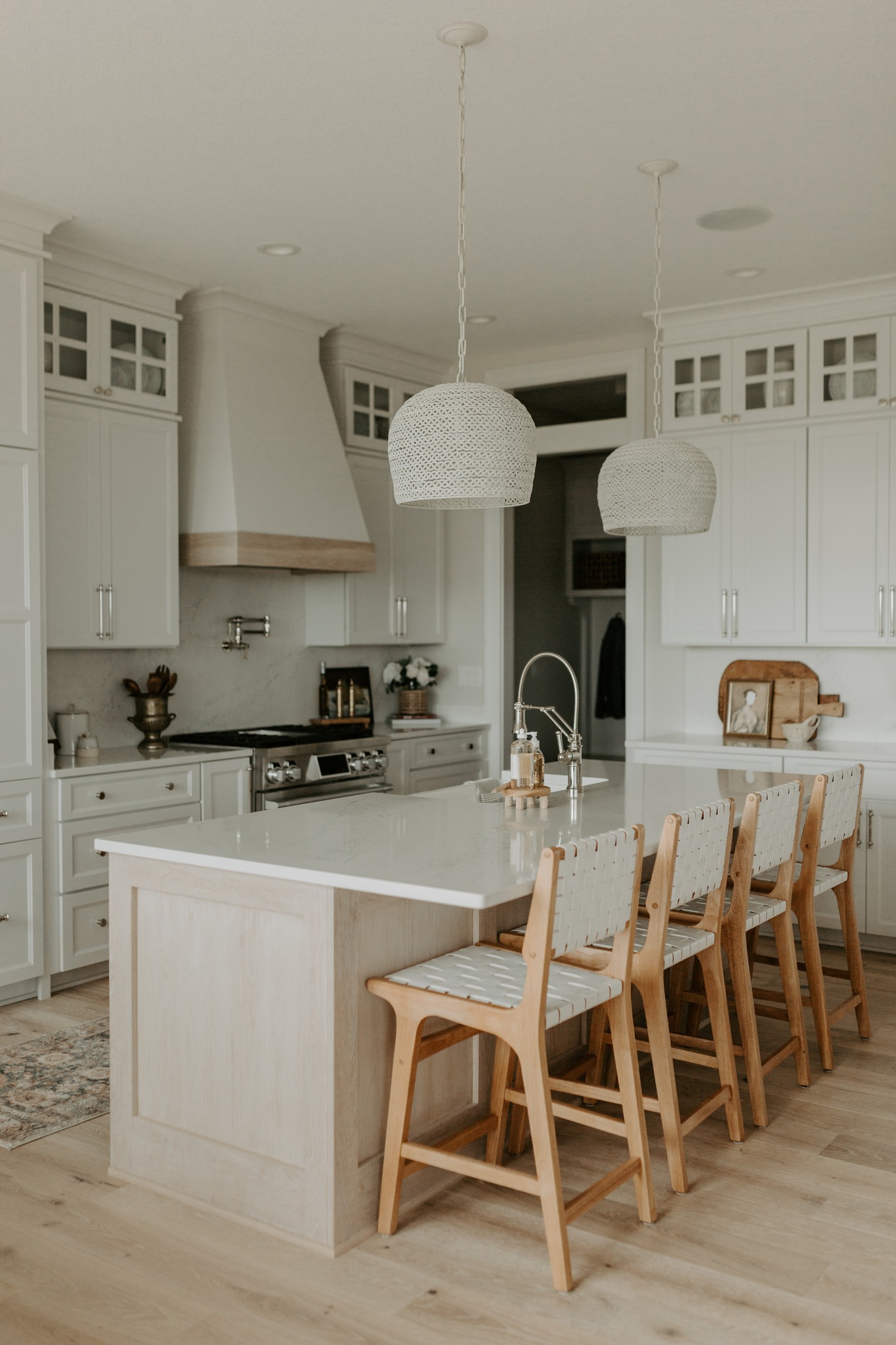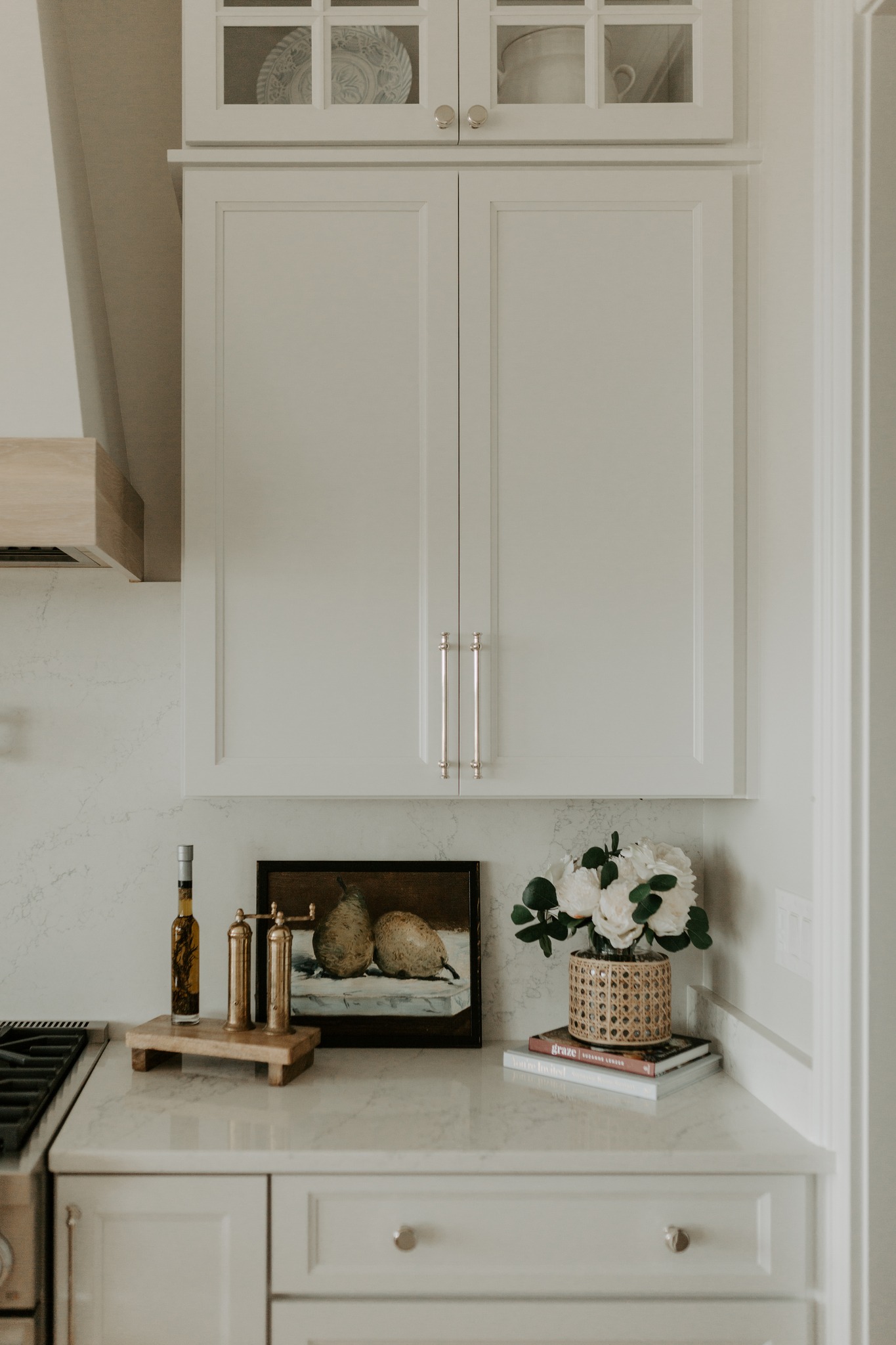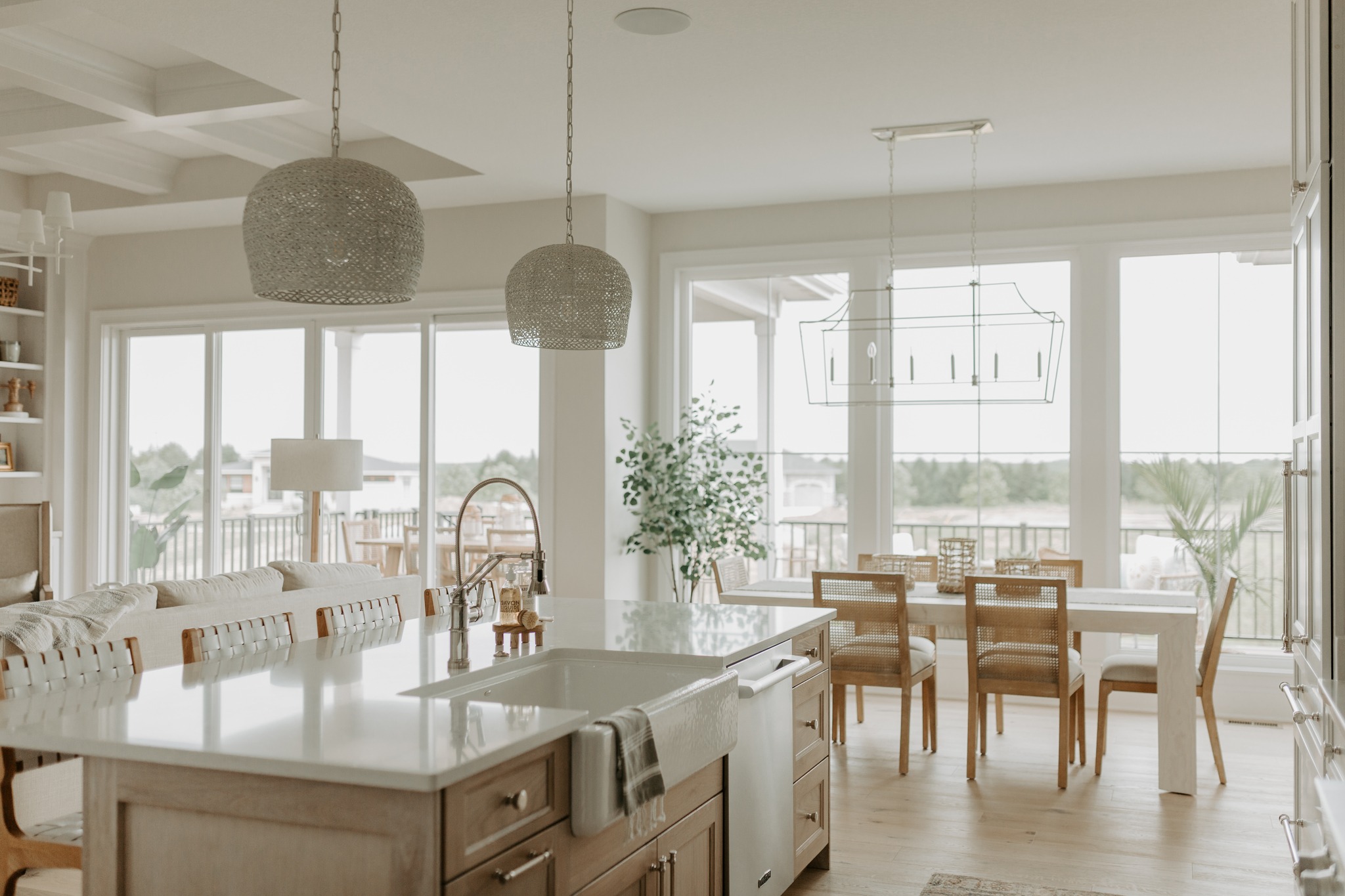 Across from the kitchen and adjacent to the spacious primary bedroom is the primary bathroom, which could be mistaken for an all-inclusive spa resort. Two vanities, which feature CKF 360 Signature cabinets in a Sand finish, enclose a massive soaking tub perfect for self-care Sundays! Patterned wall tiles and marbled tile floors bring the space to life and are the perfect touch for a pristine, unique look.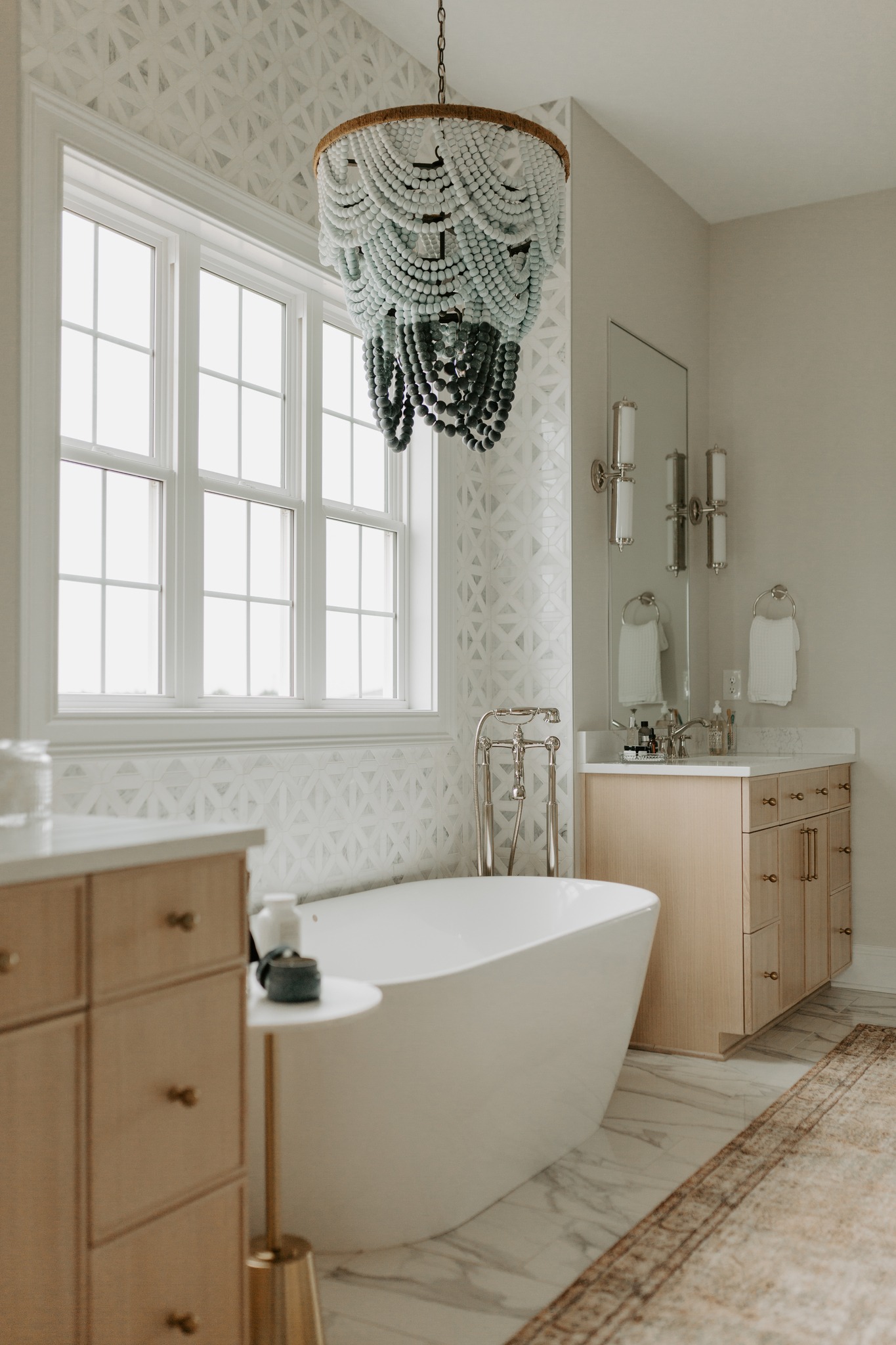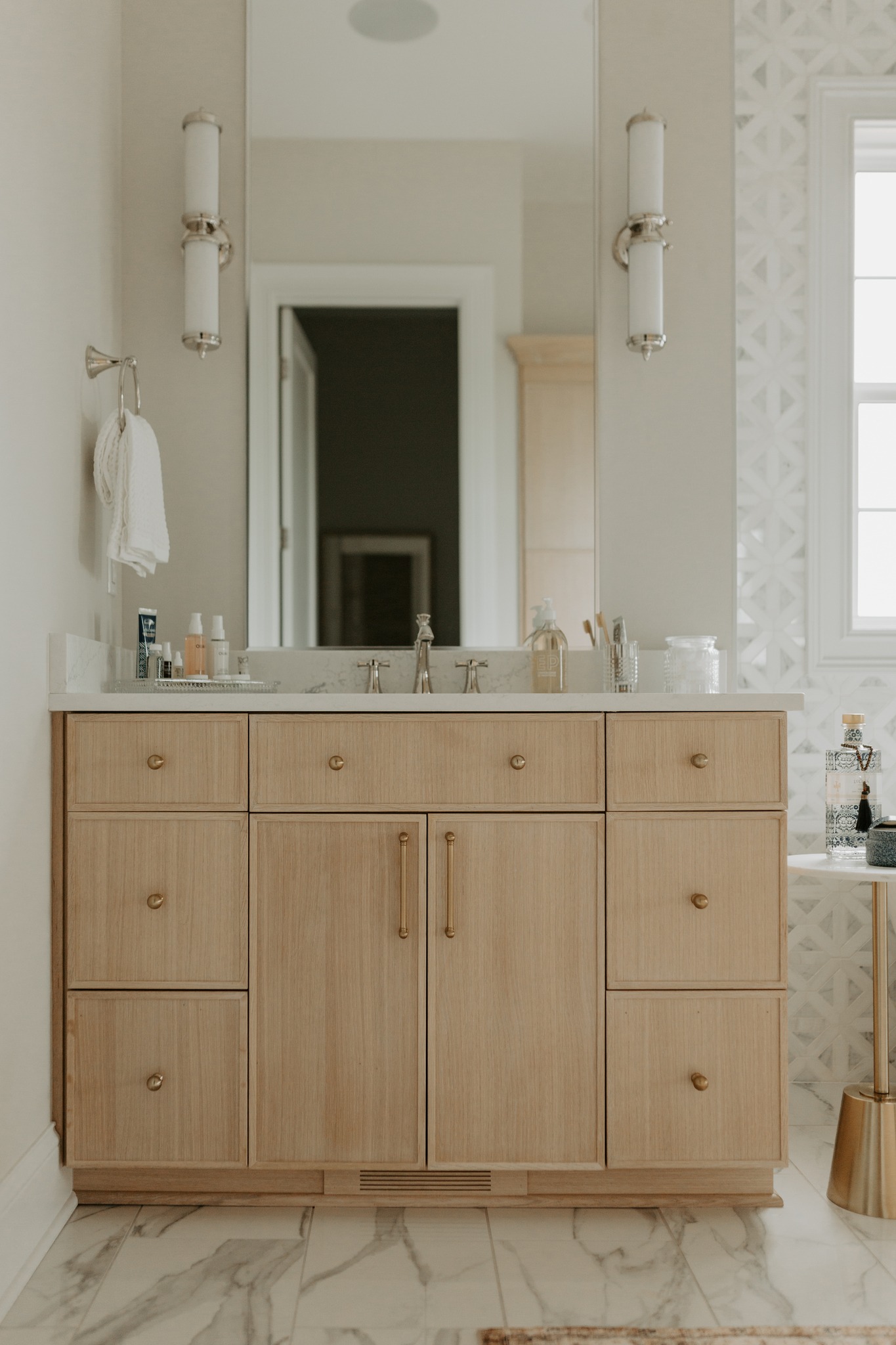 Need a glass of wine while you soak in the spa-like bath? Head downstairs to the full-sized basement bar, which has no shortage of wine storage! A towering wine rack spans from the baseboards to the top of the fridge, offering an abundance of storage for all your favorite reds, whites, and bubbly! The bar is built with CKF 360 Classic cabinetry in a brisk White finish, which is adorned with intricate gold hardware. Colorful blue and white tile line the front of the bar and add a playful element to the basement.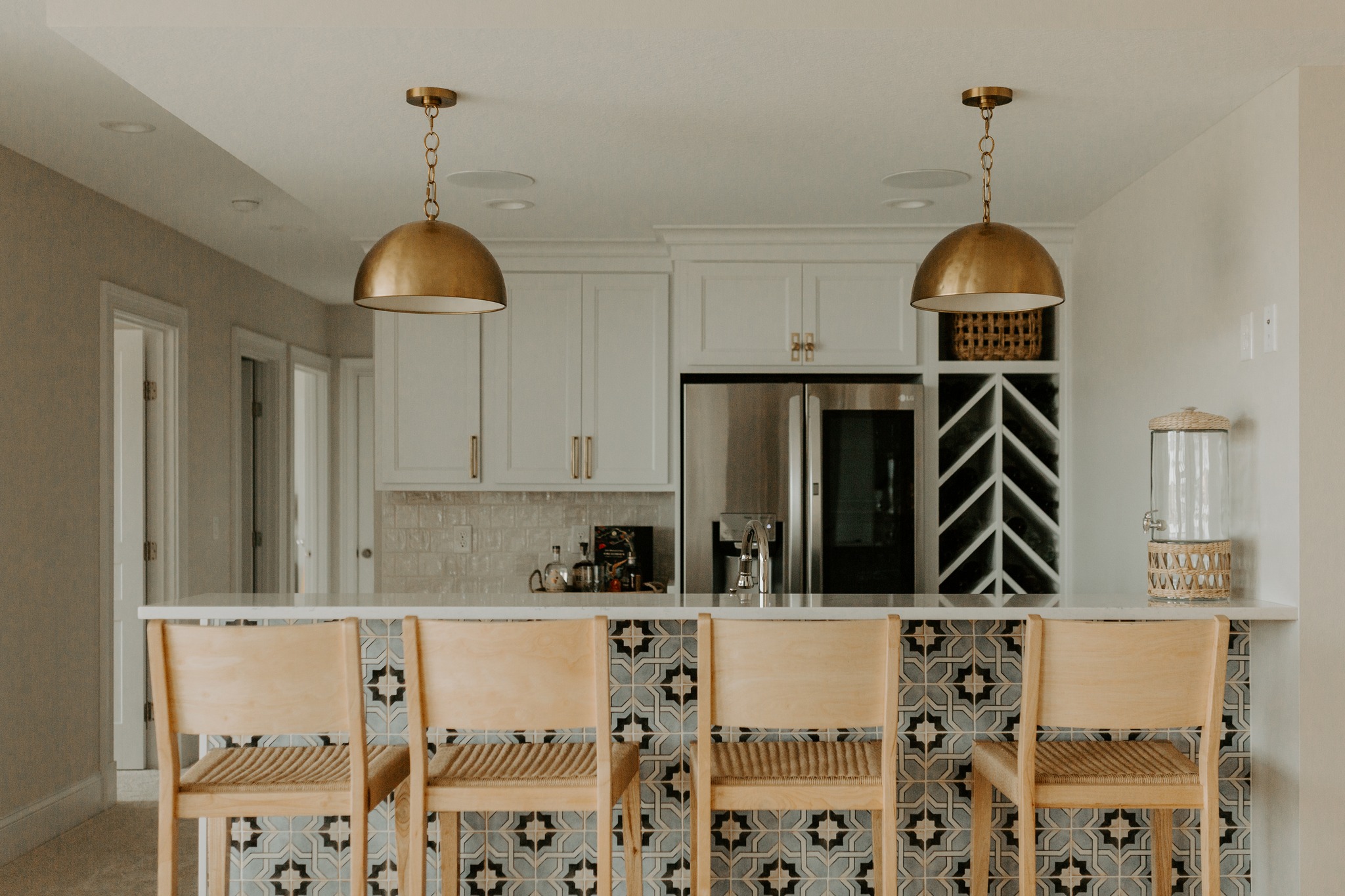 That wraps up the award-winning house by Sage Homes! Its modern features combined with the traditional aspects make this home a lovely space and we are in awe of the design! Now let's showcase Kyanite Design and Build's modern home below: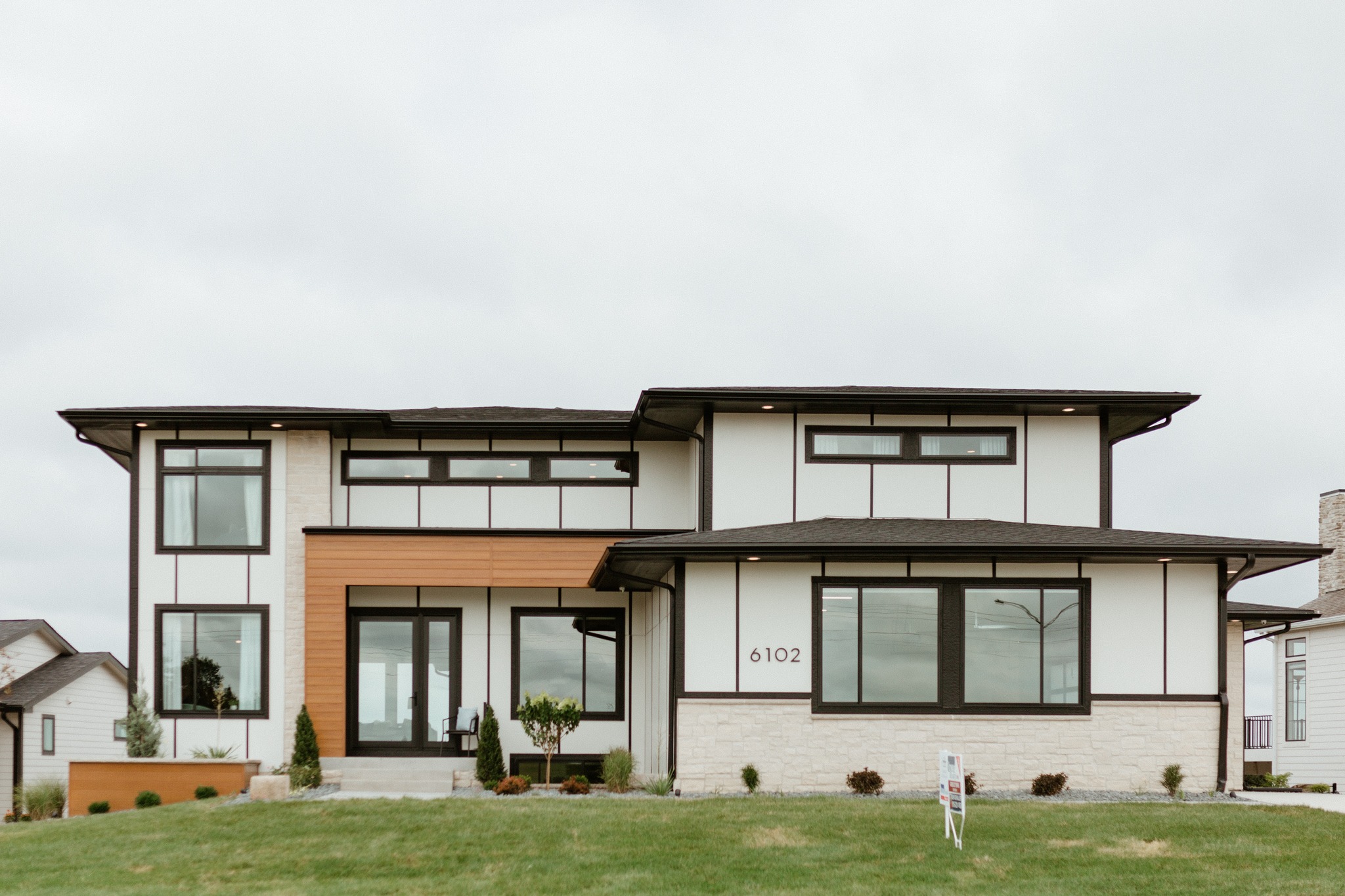 This modern, luxurious home by Kyanite Design & Build, which features CKF 360 Cabinetry throughout, is definitely a showstopper! Our team members from Des Moines, Beth Winborn and John Harris, worked with Kyanite to design a home filled with functionality and style that spreads from the office to the kitchen and down to the basement bar.
Off of the grand main entrance sits the office which is fit for a CEO. A broad wall of CKF 360 Signature cabinets in a Black finish act as the background to the executive desk, offering maximum storage within a smart, modern design. Shelving in a stone stain finish is wedged between the cabinets and creates a space to showcase achievement awards, favorite books, or your children's artwork! Who wouldn't love to work in this office?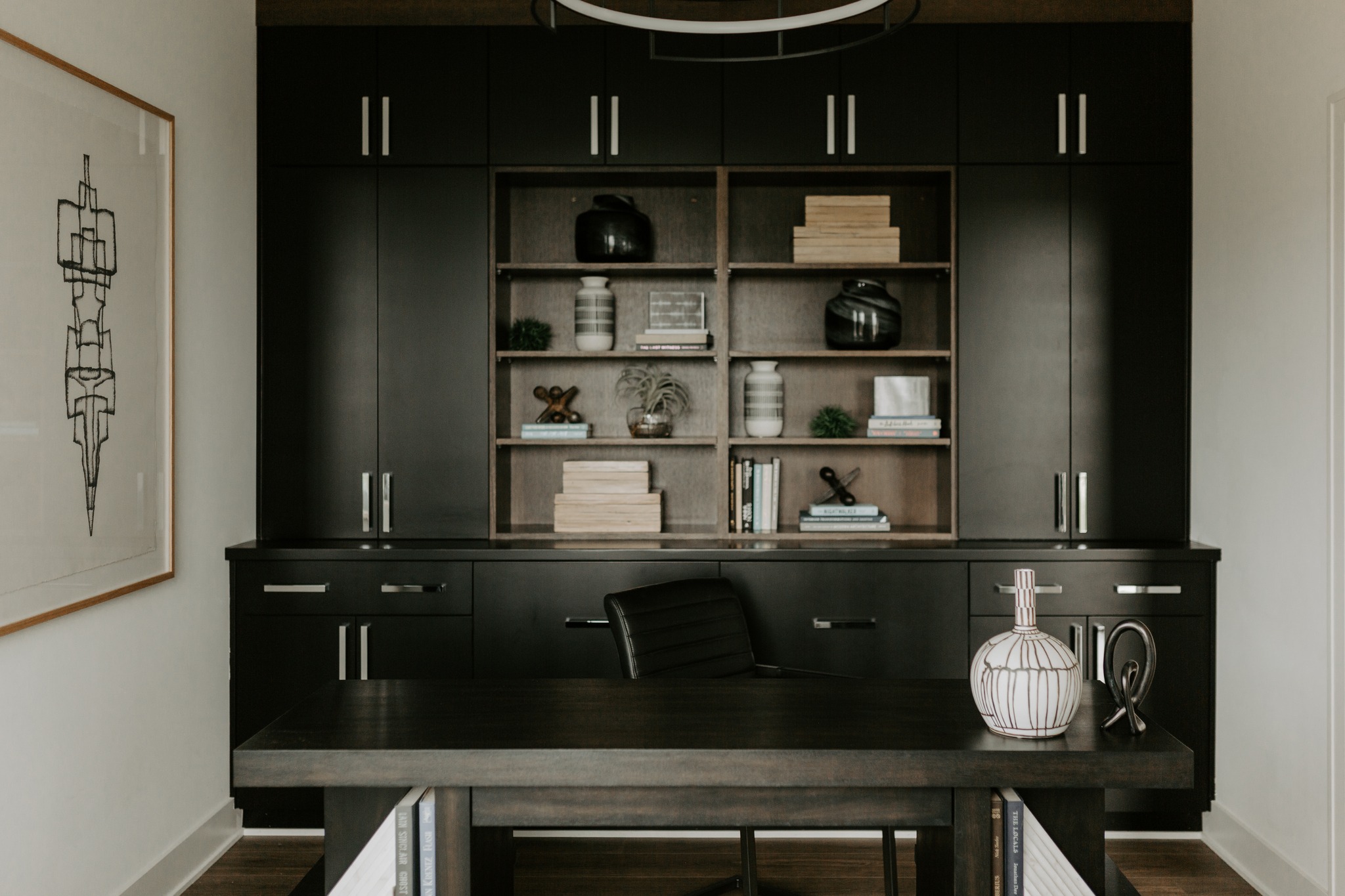 Walking out of the office leads you to the brilliant kitchen that boasts the same cabinet color scheme as the office. CKF 360 Signature cabinetry reaches to the ceiling and contains a unique hidden feature: behind the towering cabinet doors sits a walk-in pantry, which blends seamlessly into the overall design! This kitchen also includes two islands, one dedicated to cooking and the other to storage and seating, guaranteeing plenty of counter space. This one-of-a-kind kitchen is sure to impress guests with its sleek cabinetry, extra island, and hidden walk-in pantry. Want to impress your guests even more? Take them downstairs to the main activity hub!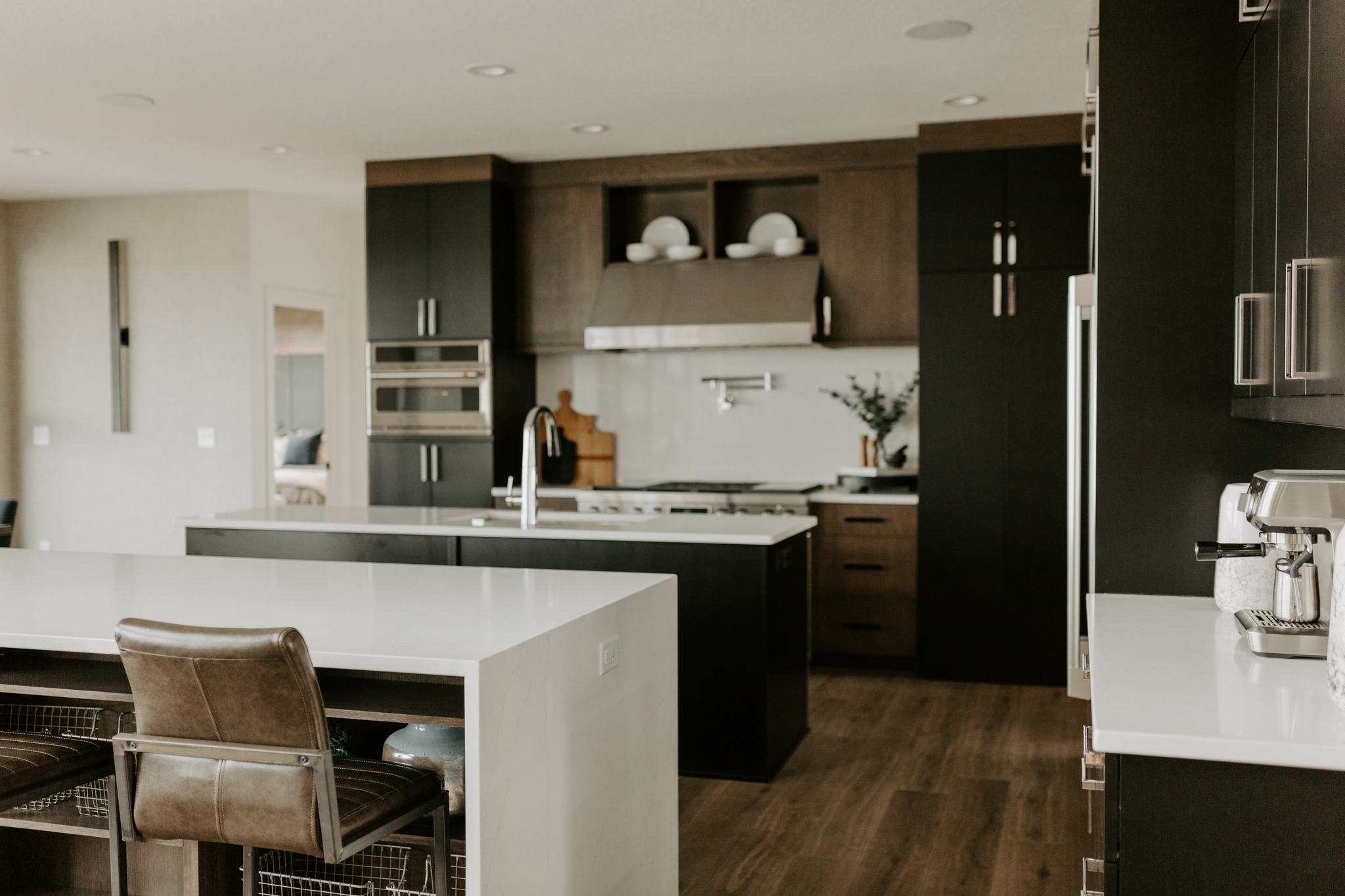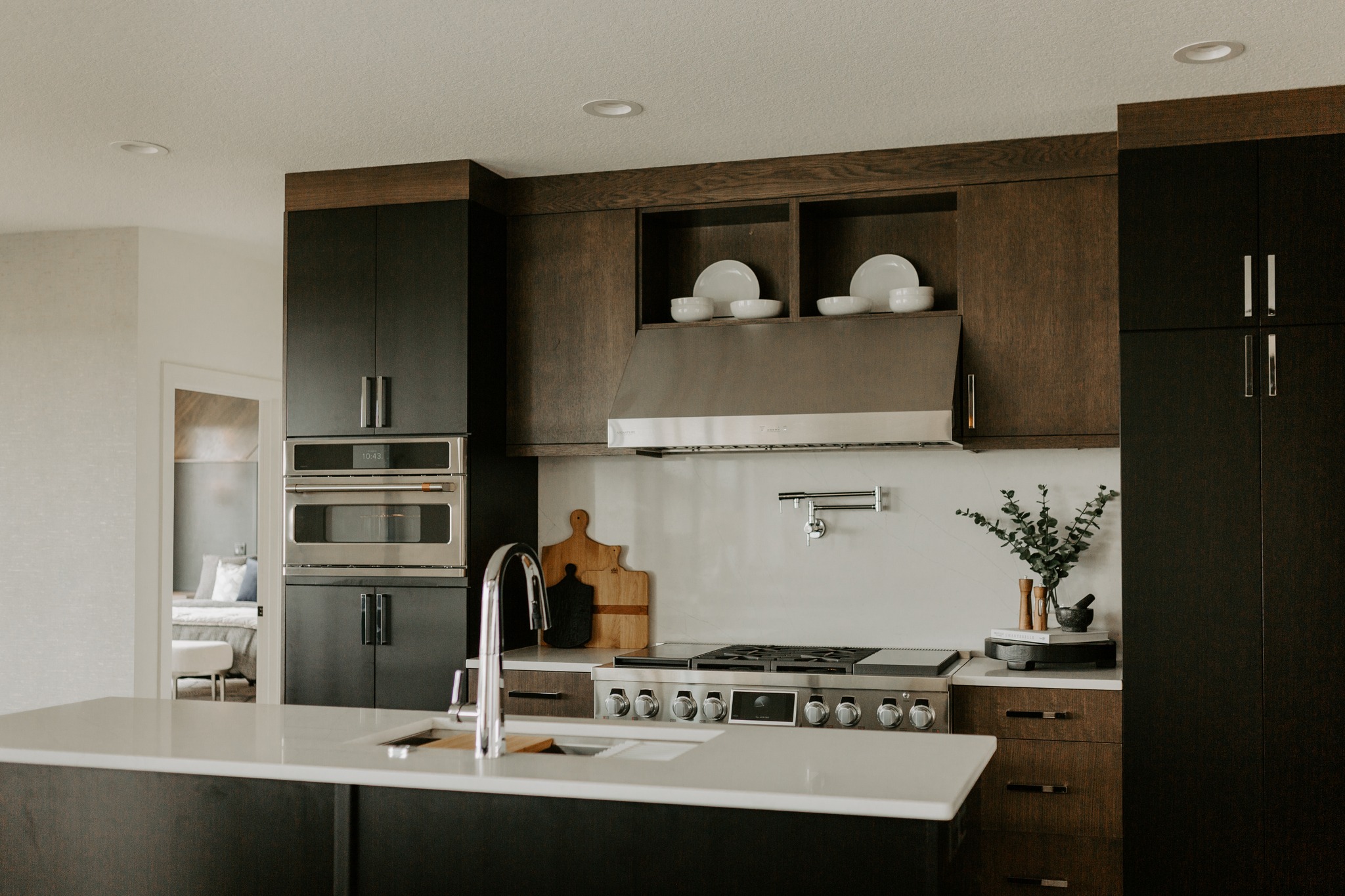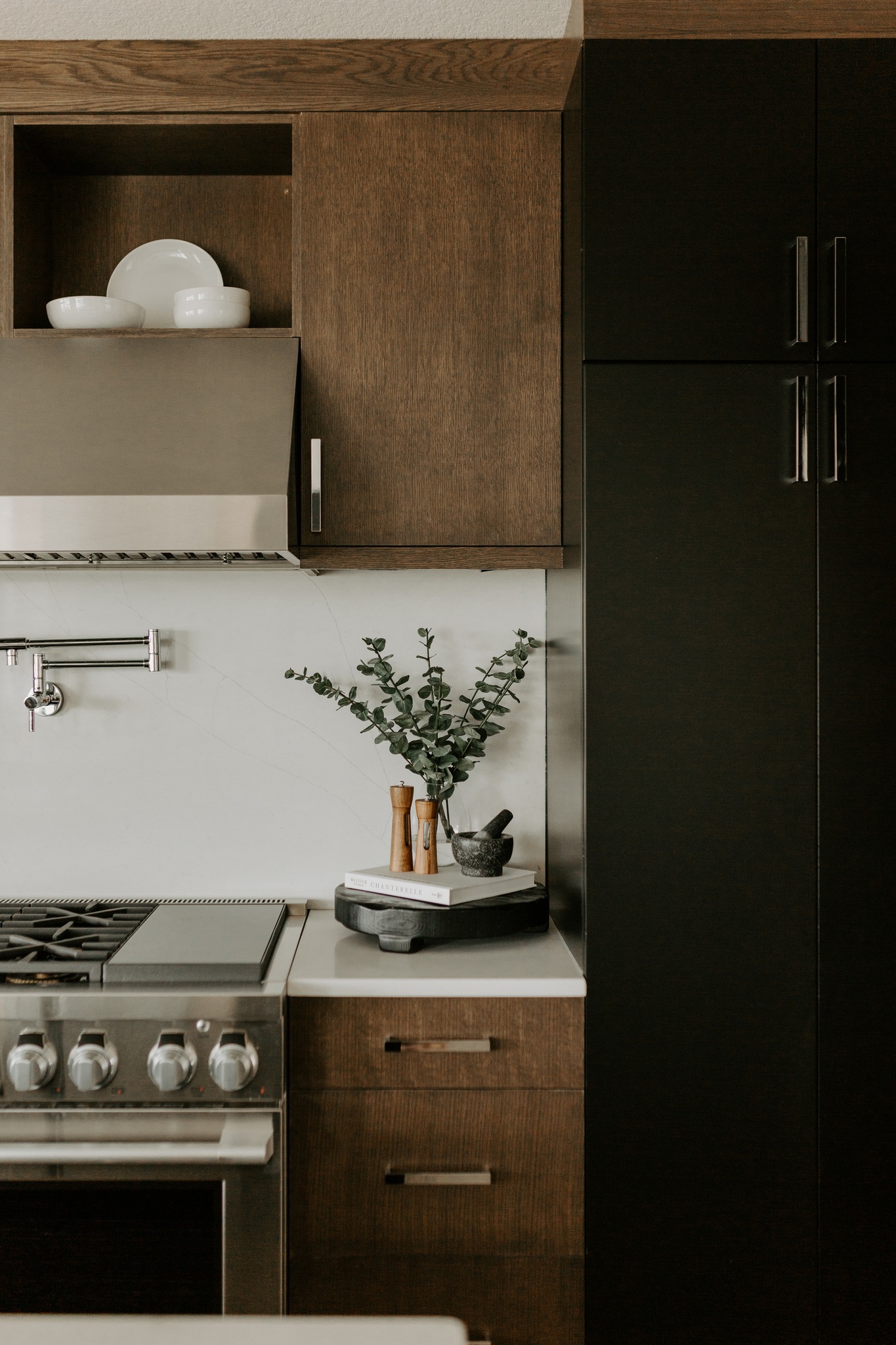 The place to be for any type of fun, the basement of this amazing home is what entertainer dreams are made of! As you make your way down the impressive staircase, you are met with a vast open area, perfect for a kid's play area or extra seating. Set lower into the ground, the main entertainment area contains a beautifully crafted pingpong table and a giant projector screen for watching the big game. Placed below the big screen is a lengthy entertainment center created with CKF 360 Signature cabinetry in a Stone finish. The main attraction of this basement, however, is the full bar with professional features! Crafted with CKF 360 Signature cabinetry, also in a Stone finish, this bar is fully stocked with everything you need to become your own bartender. Beer taps, a beverage fridge, and bar stool seating for all your friends are just a few features of this bar that make hosting a joy! That's not all this basement has to offer; the luxury swimming pool is only a few steps away! We would certainly enjoy being invited for a football party here, are you coming along?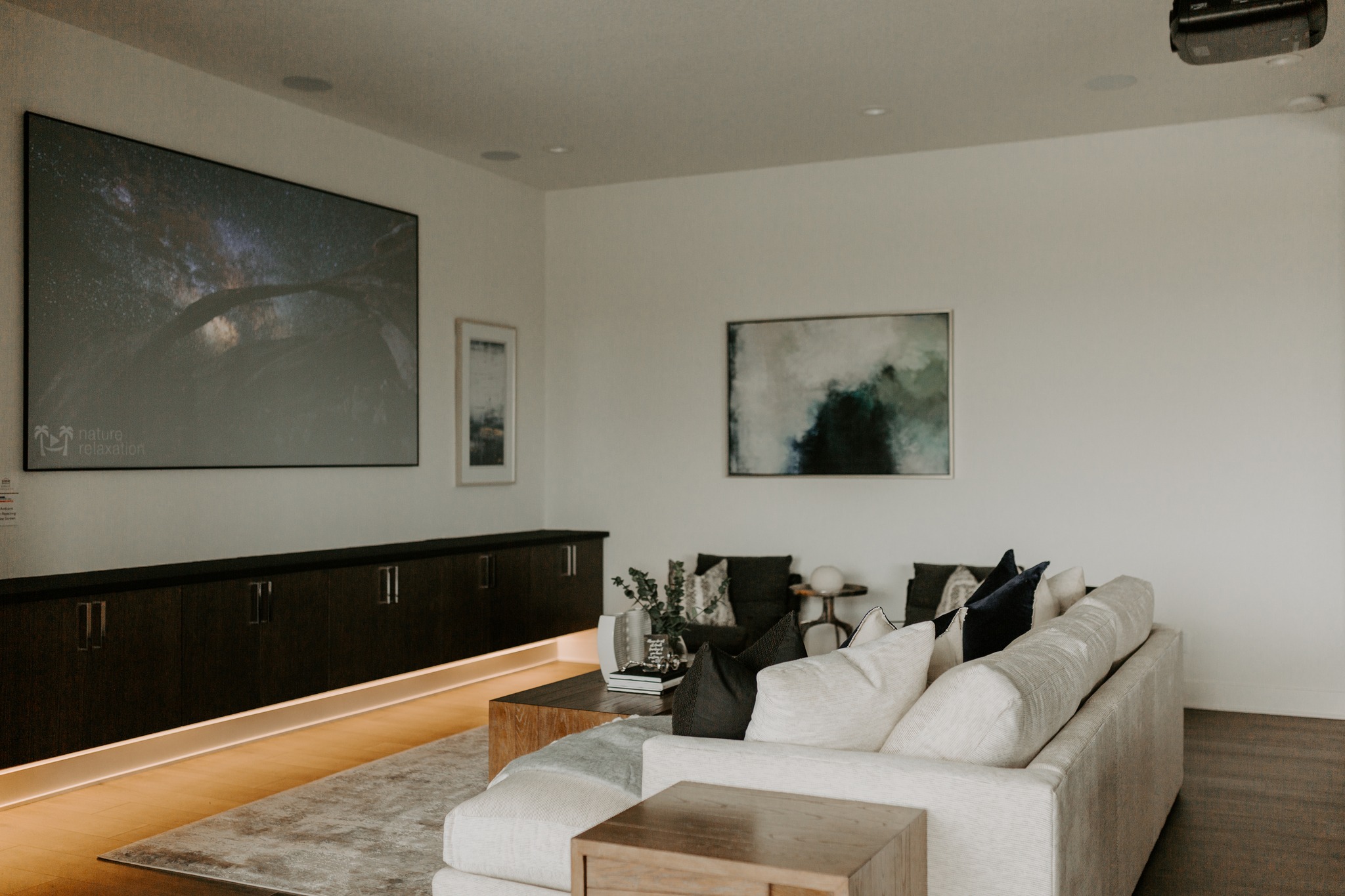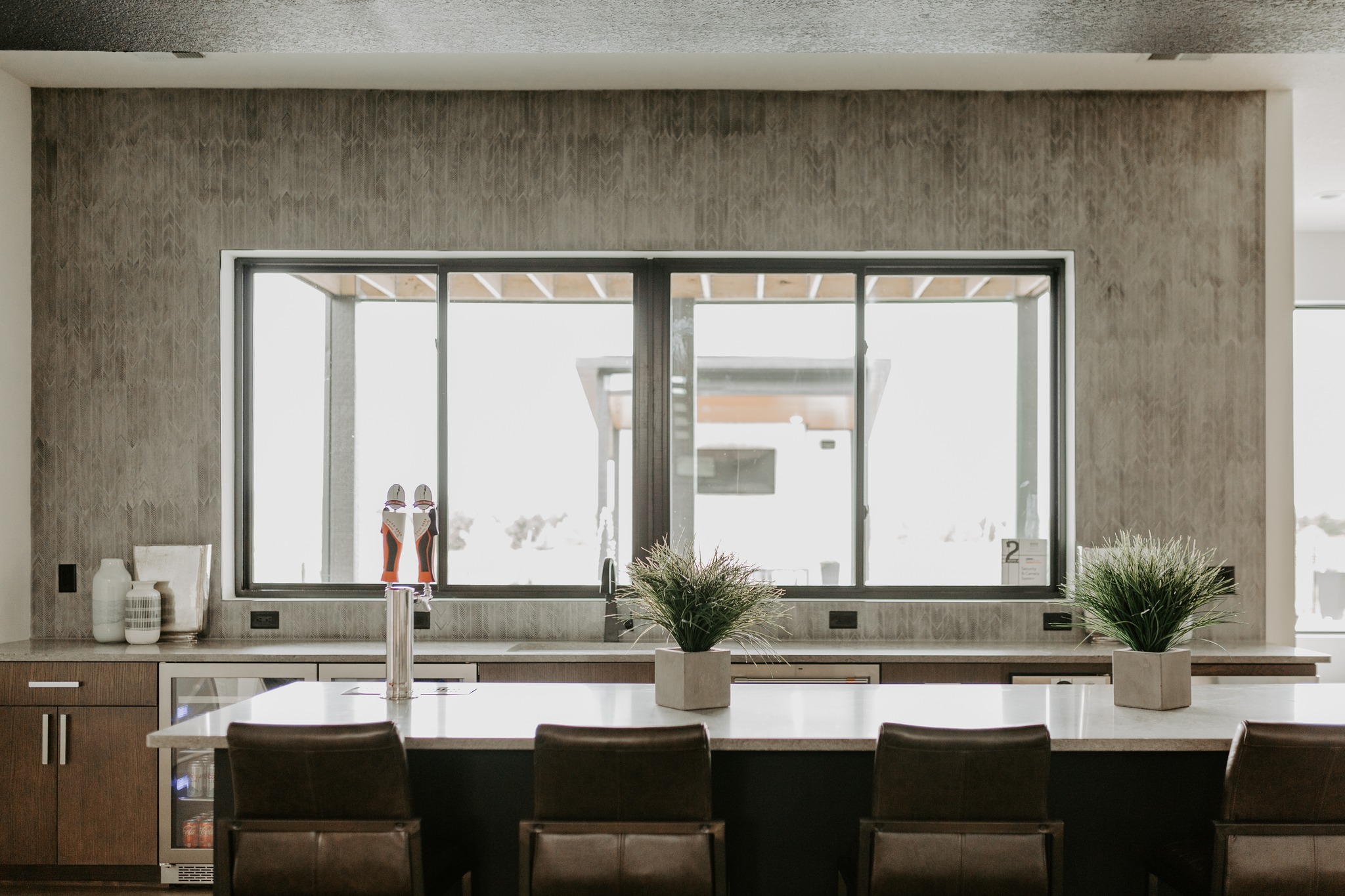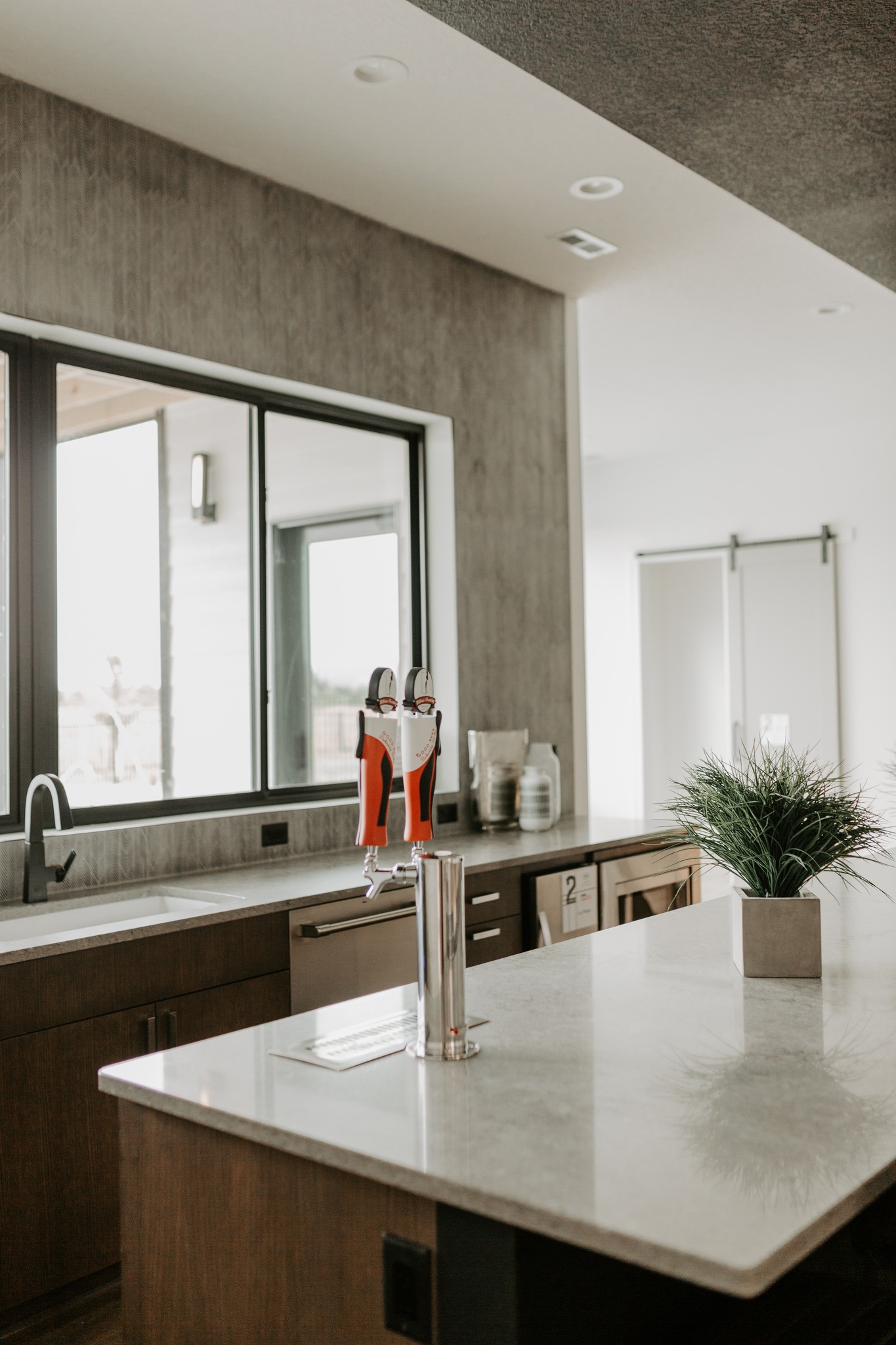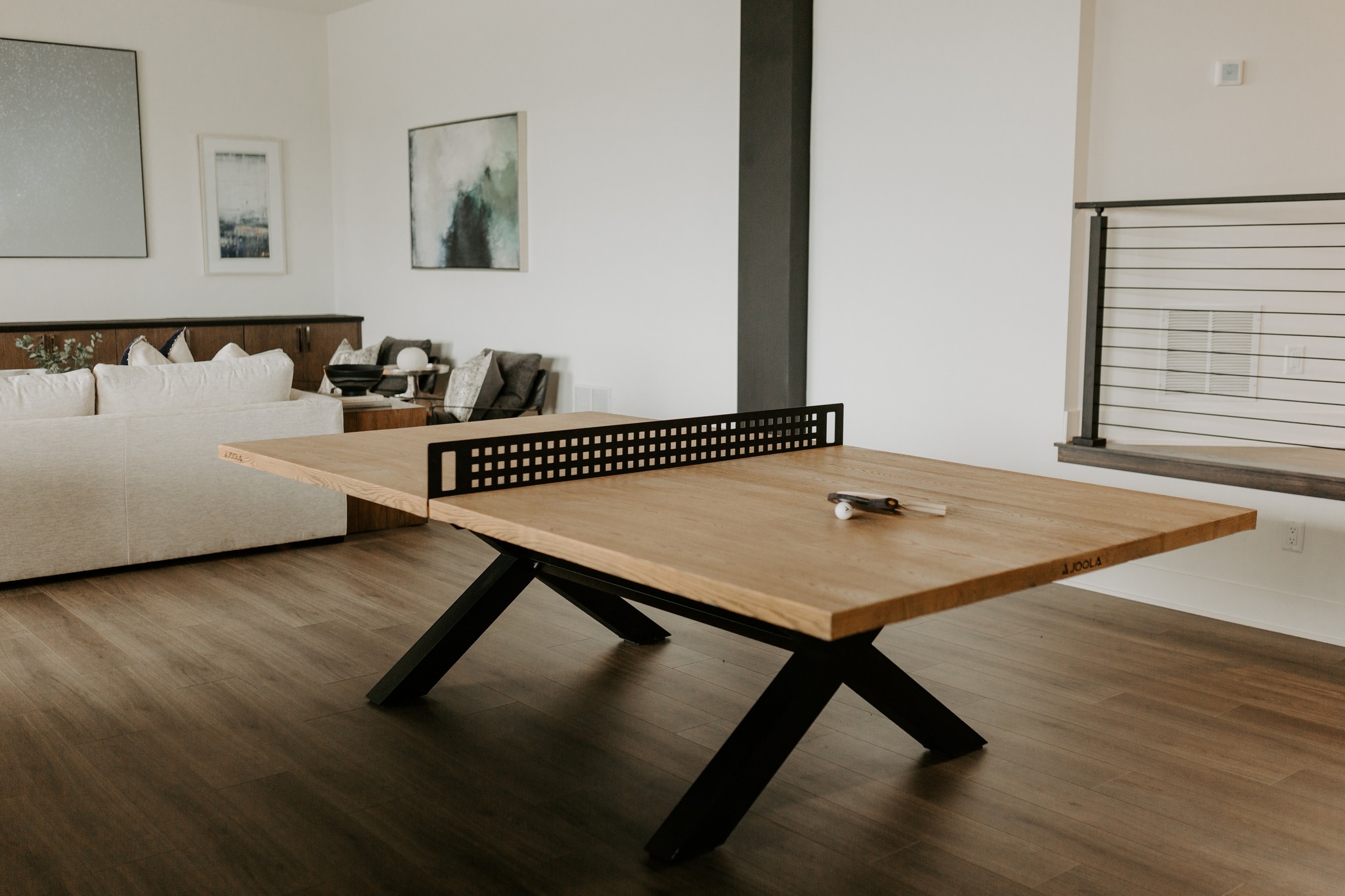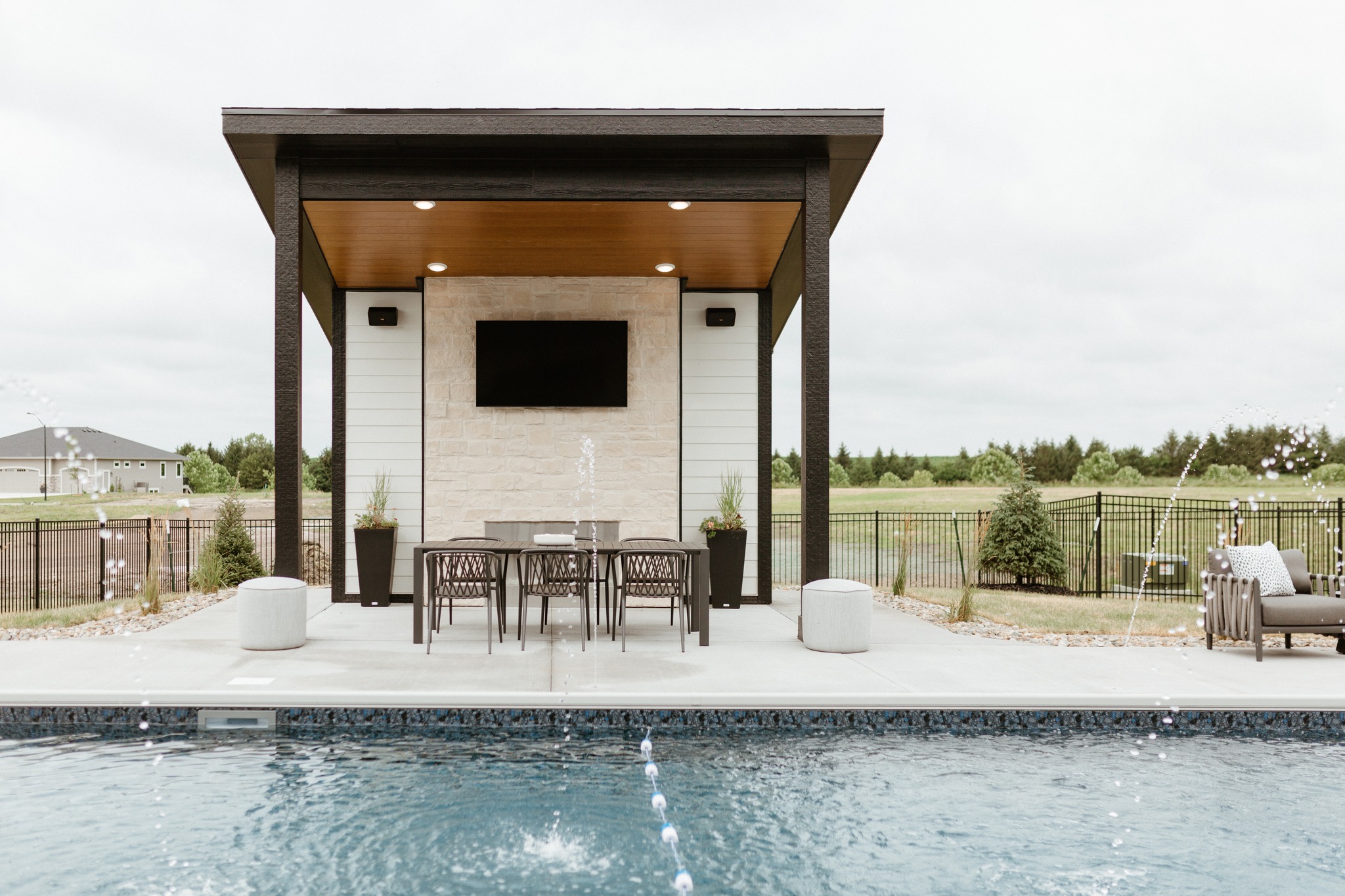 In all, Kyanite Design & Build and our team in Des Moines worked together to create a show-stopping home! We love how our CKF 360 Cabinetry is dispersed throughout the home, creating a seamless and consistent feel from room to room. The perfect home for the entertainer type, we can't stop obsessing over it! But there's always more to love as we head to the next home built by Epcon Communities: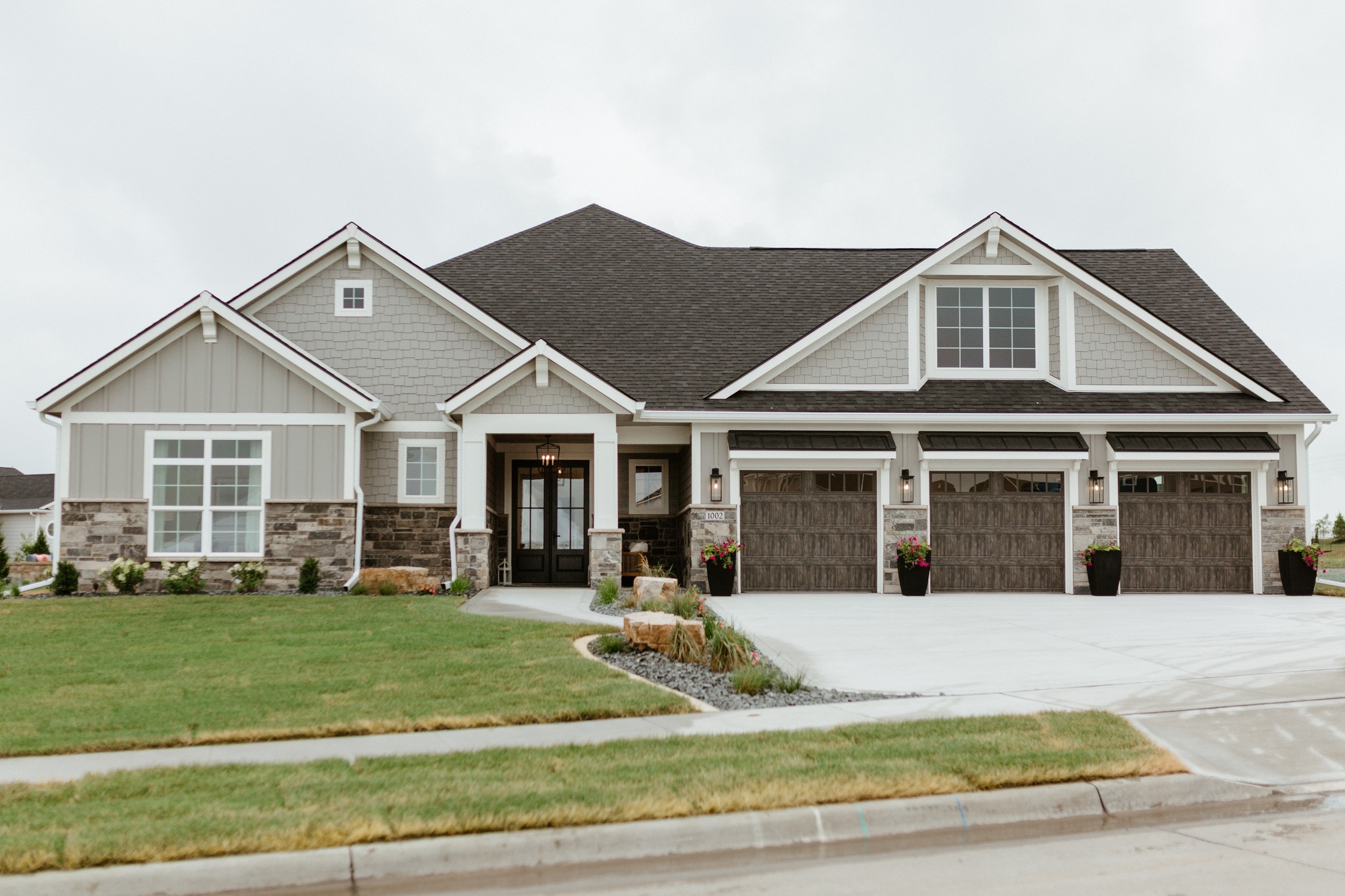 Last, but certainly not least, Epcon Communities and our Des Moines team members, Mandi Clark and Dave Middleswart, created an amazing home featuring CKF 360 Signature cabinetry in the kitchen, bar area, and bathrooms. Dedicated to family, this home consists of stunning features that are nothing short of spectacular!
Strolling through the front entrance leads you to the open concept kitchen and living room area, a vast space that allows everyone to be together, a must-have when friends and family visit! The stylish kitchen features CKF 360 Signature cabinetry in a Frost finish that extends to the ceiling and is embellished with glass-paned doors at the top. We love the look of heightened cabinetry and believe the glass-paneling on the door fronts adds a touch of elegance! The beautiful contrasting island is created with CKF 360 Signature cabinets with a fabulous Dark Knight finish. Behind the stovetop, a backsplash in the same color as the island sprawls up the wall to the ceiling and creates a cohesive look. Oh, and did we mention how charming the range hood is?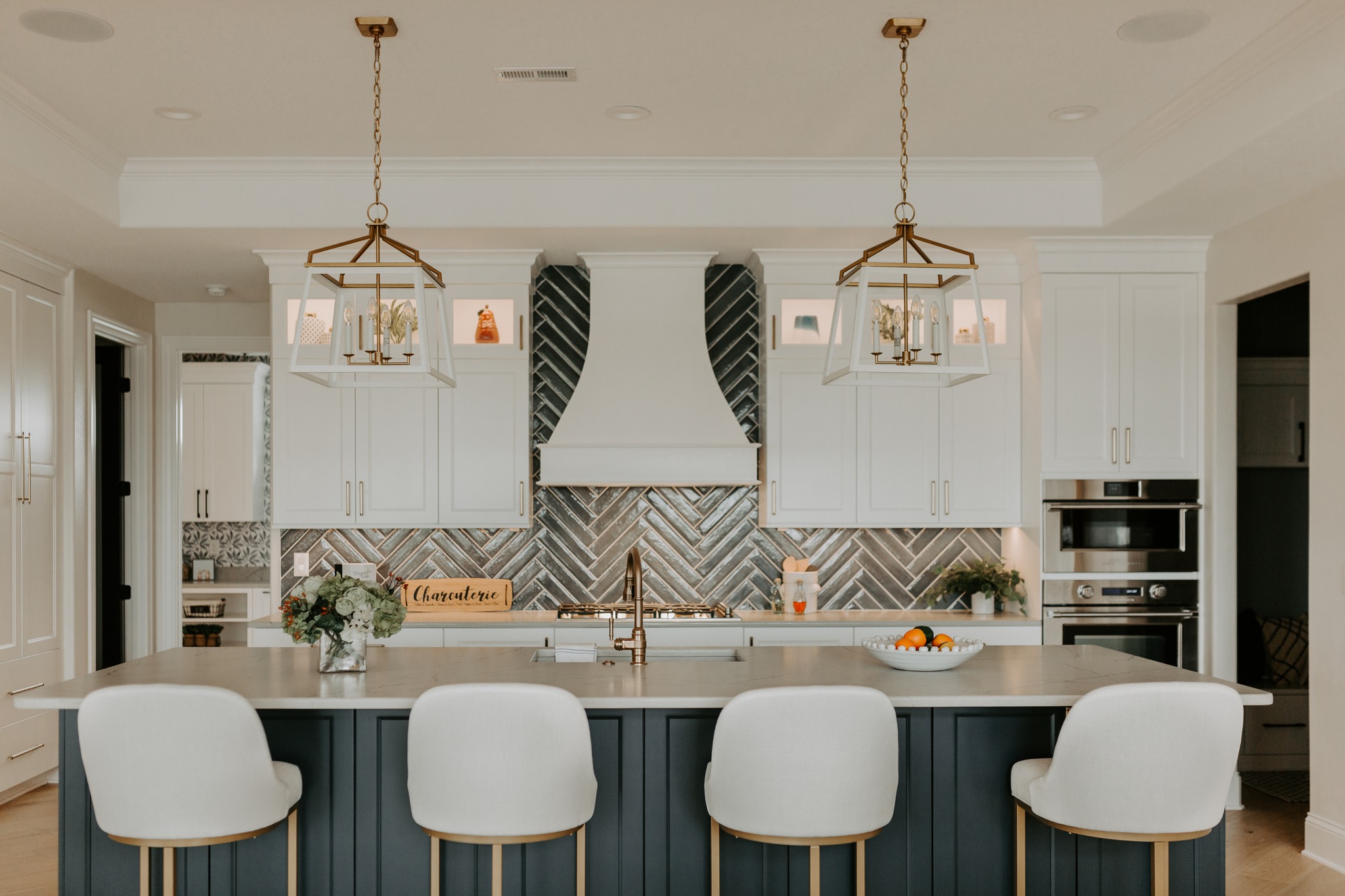 Just off the living room sits a built-in bar, ready to help you serve up the perfect cocktail or glass of wine! This bar is built with CKF 360 Signature cabinets in the same Dark Knight finish as the kitchen island. A wine rack is placed in the middle of the upper cabinets for convenient access and a beverage cooler rests below the countertop, keeping your favorite refreshments cool. The upper bar cabinets are also glass-paned, allowing you to showcase your favorite wine or whiskey glasses.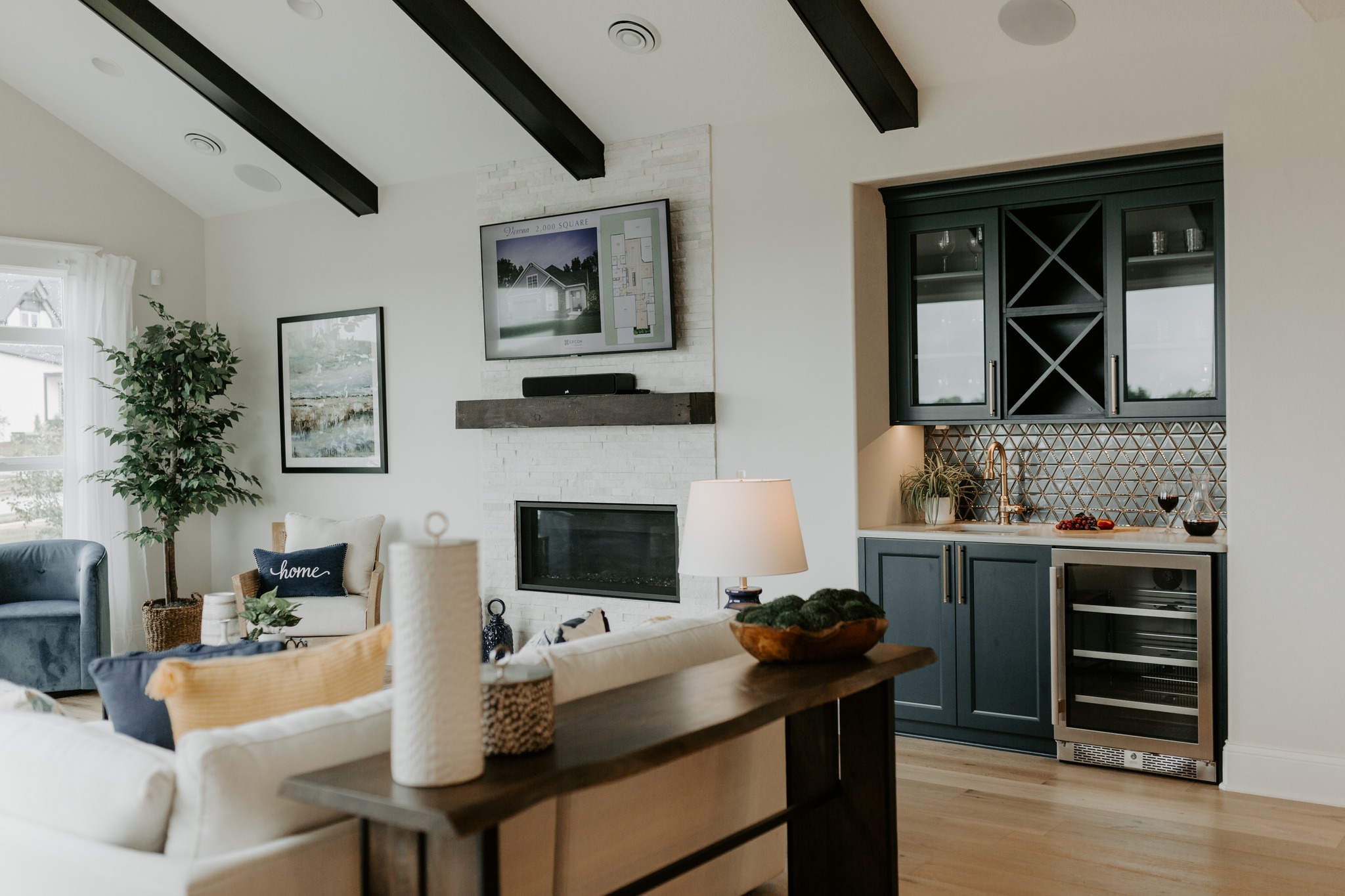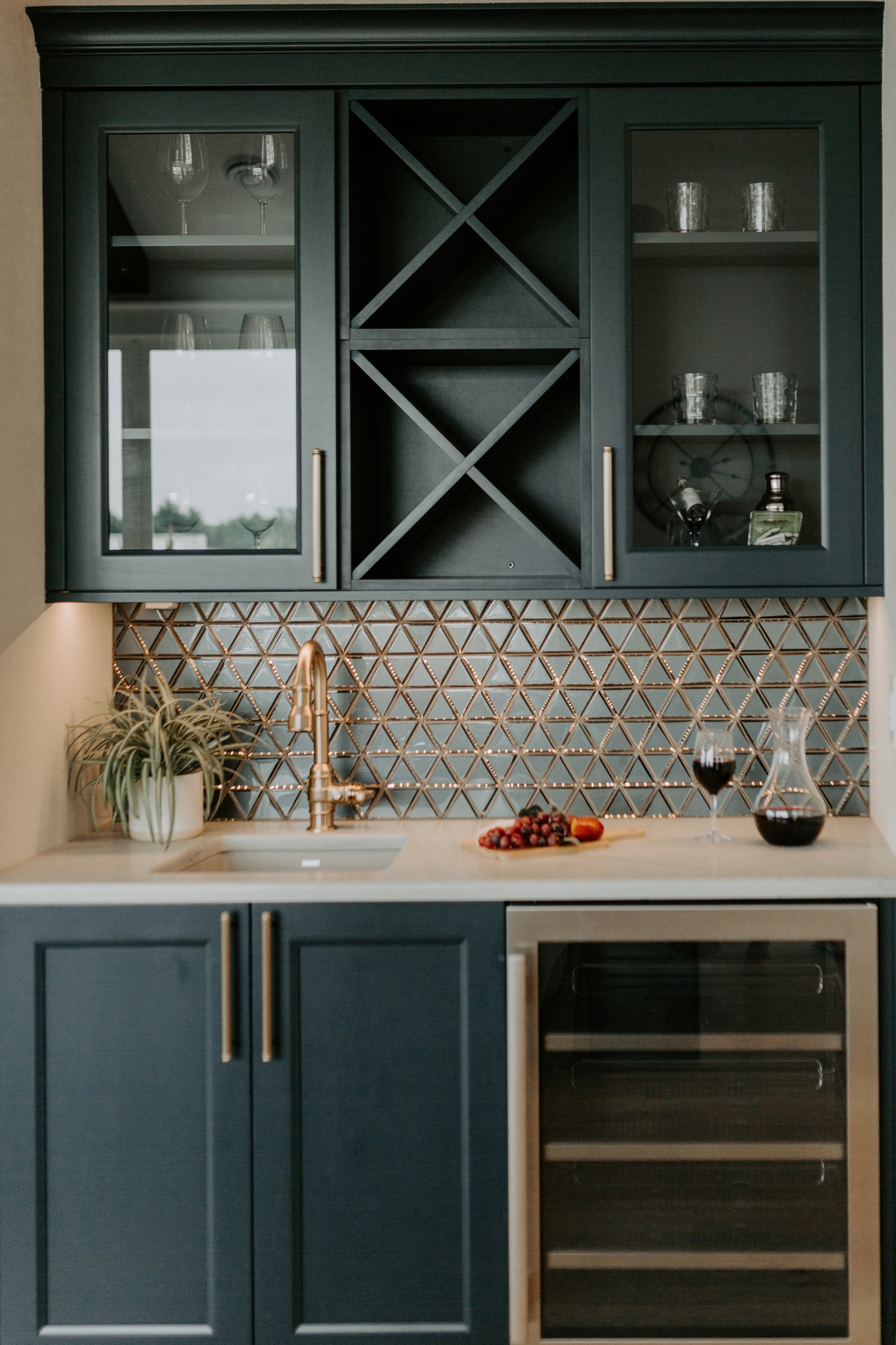 If you want to sip some wine and relax, look no further than the primary bathroom, which houses a magnificent soaker tub perfect for a pleasant night in. On either side of the massive tub stands two vanities created with CKF 360 Signature cabinets. Can you guess what finish the vanities are in? If you guessed Dark Knight, you are the winner! We adore how Dark Knight is a staple finish throughout this home and how it creates an integrated feeling.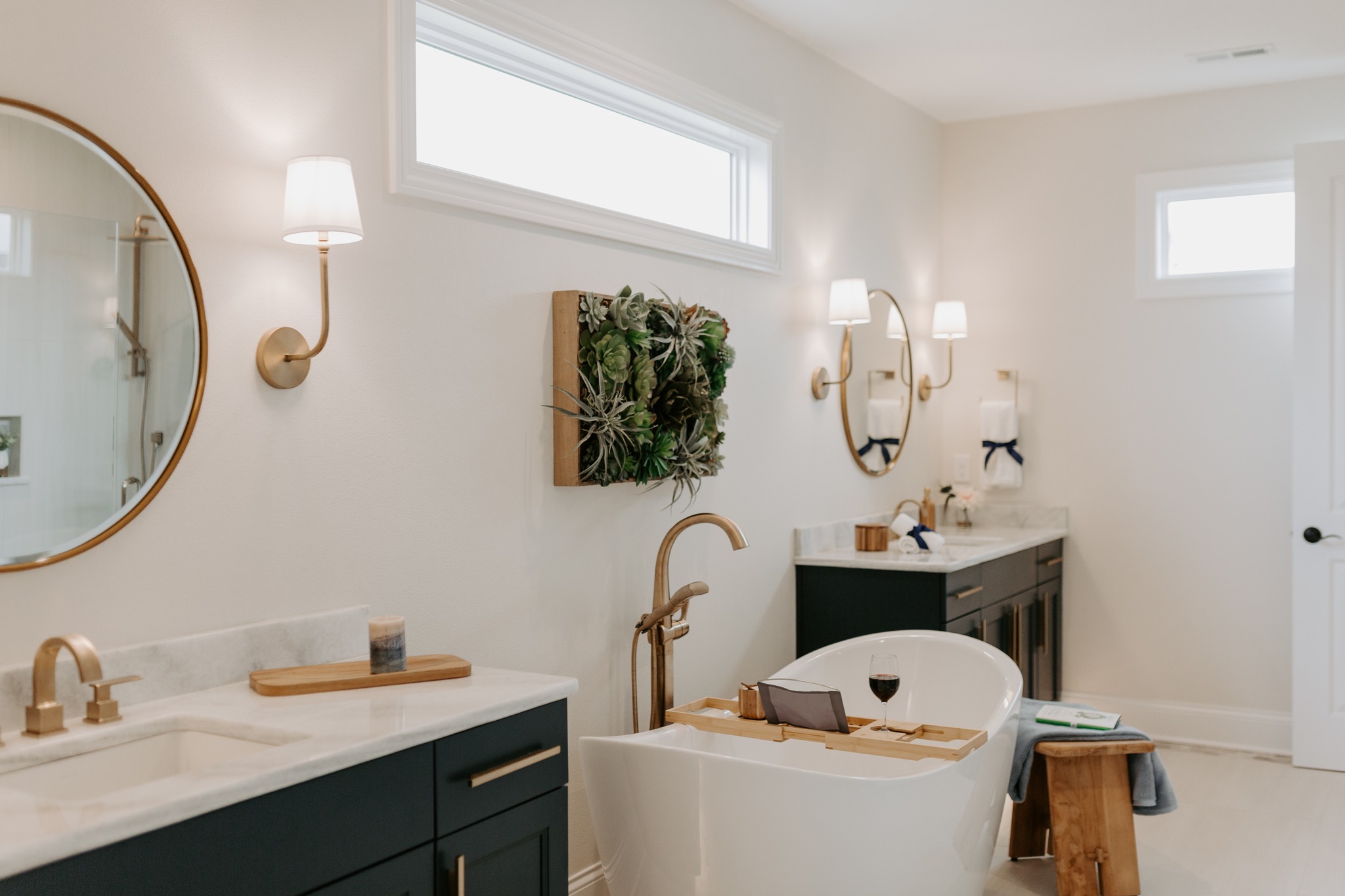 The serene primary bath concludes the tour of this delightful home by Epcon Communities and our designer, Mandi Clark! This traditional-style home is perfect for those who prioritize family and friends, offering a splendid place to join together.
Overall, these homes were very impressive! The Des Moines Home Show Expo is an excellent opportunity for builders and sub-contractors to showcase their work and we are so grateful we could be a part of it. A massive congratulations to our team in Des Moines for working with these incredible builders to design some extraordinary homes! We are already looking forward to next year's Home Show- are you?
Cabinetry Summary:
Sage Homes:
Kitchen Perimeter- CKF 360 Classic, Fairway Door Style, PG Maple Wood, White Finish
Kitchen Island- CKF 360 Signature, Cascade Door Style, White Oak Wood, Sand Finish
Master Bathroom- CKF 360 Signature, Summit Door Style, Rift White Oak Wood, Sand Finish
Basement Bar- CKF 360 Classic, Fairway Door Style, PG Maple Wood, White Finish
Kyanite Design & Build:
Office- CKF 360 Signature, Mesa Door Style, MDF Wood, Black Finish
Kitchen- CKF 360 Signature, Liberty and Mesa Door Styles, MDF and Rift White Oak Wood, Black and Stone Finishes
Basement Bar and Entertainment Area- CKF 360 Signature, Liberty Door Style, Rift White Oak Wood, Stone Finish
Epcon Communities:
Kitchen- CKF 360 Signature, Cascade Door Style, HDF Wood, Frost and Dark Knight Finishes
Great Room Bar- CKF 360 Signature, Cascade Door Style, HDF Wood, Dark Knight Finish
Master Bathroom- CKF 360 Signature, Cascade Door Style, HDF Wood, Dark Knight Finish
Photography by Claire Zellmer
Find more information about the Des Moines Home Show Expo here!